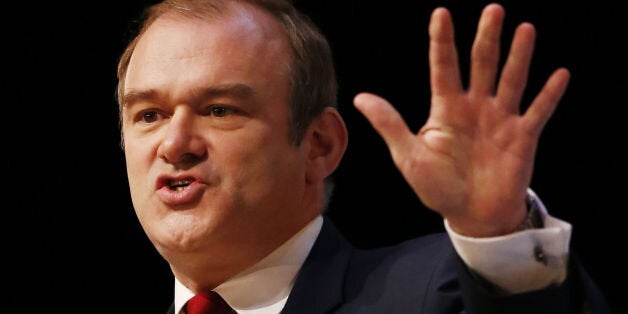 The Liberal Democrat Energy Secretary has savaged Tory climate change sceptics, saying they showed "wilfully ignorant, head in the sand, nimby-ist conservatism".
Ed Davey said elements of the Conservative Party were undermining the government's efforts to tackle climate change as more extreme weather beckoned.
This prompted an angry response from Michael Fallon, a Tory junior minister in the same department, who warned against "climate change worship".
In a speech to the Institute for Public Policy Research think-tank, Davey said political opposition to tackling climate change combined with the entrenched euroscepticism of some Conservatives were creating a "diabolical cocktail" which could undermine efforts to achieve international agreement on a way forward.
His speech comes as the UK faces more rain, storms and flooding, which Davey said showed "the possible consequences of a world in which extreme weather events are much more likely".
Answering questions after the speech, he made clear he had support from around the Cabinet table, including from the Prime Minister David Cameron.
And he said he worked closely with the Environment Secretary Owen Paterson, who has come under fire from green groups for his climate scepticism.
His attack, he said, was aimed at some Tory backbenchers, those "flirting" with Ukip and Ukip itself.
"I fear that on climate change and energy policy, political consensus is in danger of breaking down," he said.
"From the right, fringes of the Conservative Party and Ukip are parroting the arguments of the most discredited climate
change deniers, seizing on any anomaly in the climate data to attempt to discredit the whole.
"This is undermining public trust in the scientific evidence for climate change, which of course is overwhelming.
"And we can see around us today the possible consequences of a world in which extreme weather events are much more likely.
"This type of climate change denying conservatism is wilfully ignorant, head in the sand, nimby-ist conservatism.
"And when married to the europhobia innate to parts of the Conservative Party, you have a diabolical cocktail that threatens the whole long-term structure of UK climate change and energy policy.
"If you accept the logic of climate change, you have to accept the logic of European co-operation to tackle it. Because we can only remain competitive, be energy secure, and tackle emissions by acting together with our major trading bloc, our neighbours, our partners.
"And we can only influence the world's biggest carbon emitters - China and the US - by speaking together as one."
He warned that action to tackle climate change and drive forward a low carbon energy future would be at risk if an "extremist cohort" found themselves in a position of real influence following the next general election.
Davey also criticised Labour's plan for an "artificial" 20 -month freeze in energy prices, claiming it would damage efforts to reduce carbon emissions.
"It will in fact threaten investment in energy security, push up prices for consumers in the long run, destroy competition by solidifying the power of the 'Big Six' (energy companies) and do nothing at all to reduce emissions," he said.
"Indeed if it threatens investment in low-carbon generation, it could represent a step back for the climate."
His comments come after former Chancellor and climate "sceptic" Lord Lawson claimed that scientists were "pretending they know" about climate change.
Davey said that the immediate response the extreme weather was to address the problems of the floods, power cuts and transport disruption.
But in the longer term he said it was important to listen to the scientists, and pointed to the Met Office warnings of the link between the winter storms and climate change and that the country should prepare itself for more similar events in future.
"Climate change scientists have been warning for some time there will be an increase in extreme weather events. I think we do need to take what the scientists are telling us extremely seriously."
Deputy Prime Minister Nick Clegg backed Mr Davey's comments about elements of the Conservative Party, but said he did not believe they were aimed at David Cameron.
"It's not a secret that in the Conservative Party you have a fair number of people who just don't accept the reality of climate change," said the Liberal Democrat leader.
'It's David Cameron who is cutting green taxes and steering Europe away from artificial targets."