Sheryl Sandberg's Lean In Foundation has collaborated with Getty Images to change the way the world thinks about women.
Together they have created some 2,500 stock photographs* to empower women and change the status quo. A move that we - unsurprisingly - welcome with open arms.
*For the uninitiated: stock photographs form part of a global image bank that are used by thousands of media publications, designers and advertisers. As a result they are seen by millions upon millions of people worldwide each and every day.
And needless to say, what they depict (and how they depict it) is vitally important. These images guide our impressions, help form opinions and seep into our consciousness. And the consciousness of generations to come.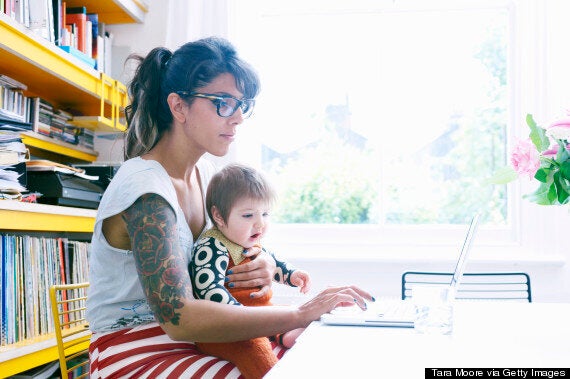 A photograph of a working mother from the Lean In Collection
Too often searches involving women throw up outdated, sexist or derogatory images.
Carla Buzasi, editor-in-chief of HuffPost UK fully supports the move.
"Most people outside the media world would be shocked to see the kind of stock images my editors are used to finding when they search for certain pictures," she says.
Search 'women in work' and you'll be inundated with pictures of sexy secretaries bending over computers. Look for 'working mothers' and you'll see cold looking business women, juggling a baby and a briefcase.
It's depressingly inaccurate.
"I love this initiative from Getty and Sheryl - it's one of those great ideas that it's hard to believe no one though of sooner," adds Carla. "Here's to more empowering ways to celebrate women in the world today."
But now, thankfully, we've got photographs that break the mould - showing women simply being women: working mothers (who look happy), women in the gym (who aren't wearing next to nothing) and women interested in science or technology (not just shopping).
What do you think of the images? Let us know in the comments below.