Hundreds more were stranded as winds of up to 108mph stopped trains in their tracks, blew roofs off stations and closed major transport links on a day dubbed "wild Wednesday".
The floods which have wreaked havoc were an "almost unparalleled" natural crisis, army chief Major General Patrick Sanders said, as hundreds of troops continue to help distraught home owners defend their properties from ever-rising waters.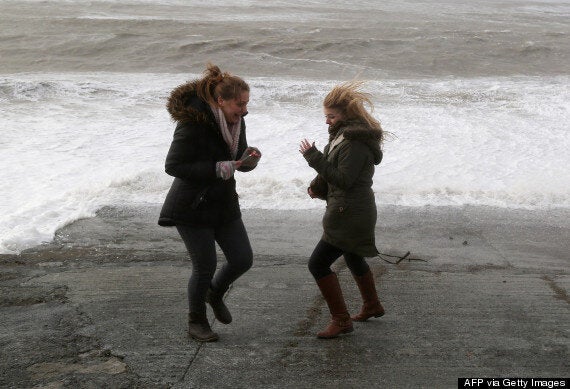 Women stand by the sea front in Aberystwyth, west Wales
Bank of England governor Mark Carney said the chaos even threatened to derail Britain's economic recovery.
More than 100,000 homes and businesses were without power last night after trees and debris were blown on to power lines.
After a brief respite today Britain faces more chaos as another storm brings heavy rain, strong winds and further risk of flooding tomorrow and into the weekend.
The West Country is expected to have 2.75ins (70mm) of rain by tomorrow, the Met Office said - more than the region would get in the whole of February - while south Wales, western Scotland, Northern Ireland and other parts of southern England are also expected to be lashed by the deluge.
Snow is expected in northern England and parts of Scotland today, and tomorrow more rain and winds of up to 80mph will arrive from the South West.
The bad weather continues to cause travel chaos, with warnings that customers should expect more major disruption on the rail network.
With some 5,800 properties flooded since early December and no immediate end to the crisis in sight, Cameron will cut short his attendance at an international wildlife conference today to focus on dealing with the flooding.
A new Cabinet committee on flood recovery will also meet today, replacing a scheduled meeting of the full Cabinet.
Cameron, who chaired a meeting of the Government's Cobra emergencies committee in 10 Downing Street, promised on Tuesday that "money is no object" in offering relief to those affected by the floods, though
Transport Secretary Patrick McLoughlin indicated that there would be "careful consideration" before money is spent on the larger rebuilding exercise after water levels recede.
Maj Gen Sanders said 1,600 troops had been committed and thousands more were available if needed to help communities deal with flooding.
"There's more that we can do and we want to do more wherever we can make a difference, so please use us, that's what we're here for," he said.
The Ministry of Defence last night said more than 2,000 military personnel were on "high-readiness" to respond to requests in flood-affected areas.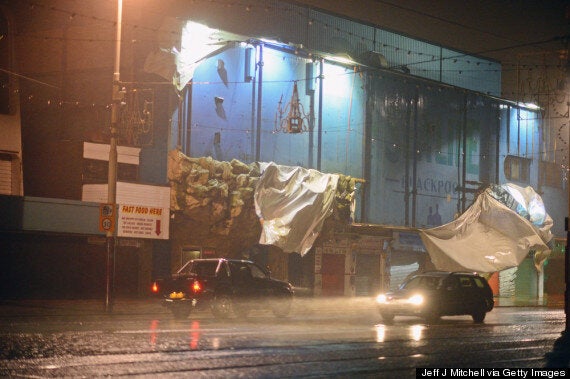 Traffic makes its way past a damaged building at Blackpool Promenade
Yesterday residents in parts of the UK were warned not to venture out after the Met Office issued a "red" weather warning for exceptionally strong winds in western Wales and north west England.
Wiltshire Police said a man in his 70s died in a suspected electrocution while attempting to move a tree which brought down power cables near Chippenham.
A lorry driver was taken to hospital after high winds blew over his vehicle in Bristol, while another man received treatment after becoming trapped under a fallen tree in Chivenor, Barnstaple, Devon.
Severe flood warnings remain in place in Berkshire, Surrey and Somerset, where severe flooding has caused hundreds of homes to be evacuated.
The River Thames is predicted to rise to its highest level in more than 60 years in some places. Residents in Windsor, Maidenhead and communities in Surrey - where police said 600 people have been evacuated and 1,000 homes affected - have been warned to expect severe disruption and risk of flooding.
Last night the Energy Networks Association (ENA), which represents energy companies in the UK, said about 130,000 homes and businesses were without power across the country.
Some 10,000 customers were affected in the North West, 52,000 in mid and north Wales, 10,000 in Cheshire, 13,000 in the West Midlands and 19,000 in the South West.
Engineers were working through the night, an ENA spokeswoman said, but some homes may still be without power today.
Road and rail travellers also endured another miserable day, with wind and rain closing major routes and wrecking train services across the UK.
Thousands of passengers were struck on trains as wind and rain caused rush-hour disruption across most of the UK, with a section of the West Coast main line in Lancashire closing between 7pm and 9pm.
At one stage all Virgin Trains services out of London Euston were suspended
A train travelling from London King's Cross to Edinburgh was stranded on the North York moors between Darlington and North Allerton, and was hauled to Edinburgh shortly before 1am by another locomotive, the BBC said.
Firefighters were called to Crewe train station after roof panels fell on to overhead lines and caused a small fire. The station was evacuated as a "precaution" and trains did not stop there.
On the roads, the southbound carriageway of the M6 between junctions 33 and 32 was closed overnight after a lorry overturned in gales, while the M48 Severn Bridge has now reopened to all traffic, the Highways Agency said.
Some ferry services from the Port of Dover are also delayed because of rough sea conditions and force 8 winds.
The adverse weather also brought disruption to Premier League football fixtures, with Manchester City's match against Sunderland and Everton's clash with Crystal Palace both postponed just an hour before kick-off.
Police in Manchester took to the force's Twitter account to urge members of the public to stay at home, saying: "Severe weather warning - do not come into the city centre unless it's absolutely essential, due to strong winds."
Carney warned of the potential impact the adverse weather would have on the economy.
"There's a big human cost here and I absolutely recognise that," he told ITV News. "Then there's the disruption to economic activity that we see just through transport, but farming clearly will be affected for some time, other businesses.
"It is something that will affect the near time outlook."
Toby Willison, programme director at the Environment Agency, said a number of rivers in the South East and South West, including areas of the Thames, were at their highest recorded levels.
"This is an exceptional event, it was the highest rainfall in January since 1776 and we think it is likely December, January and February will be the highest for 250 years," he said.
Weather forecaster MeteoGroup said Capel Curig in north Wales had seen the UK's highest rainfall yesterday, with 35mm recorded from 6am to 6pm.
The Thames Valley has seen its third wettest winter since 1908, according to the University of Reading's Atmospheric Observatory.
It measured 12.5ins (319.3mm) of rain in the region since December 15 - compared with an average of 6.4ins (164.4mm) for December, January and February.
Andrew Barrett, a storm expert at the university, said: "It will be a miracle if this is not the wettest winter on the record - with yet more storms set to batter the UK over the coming days."
Related