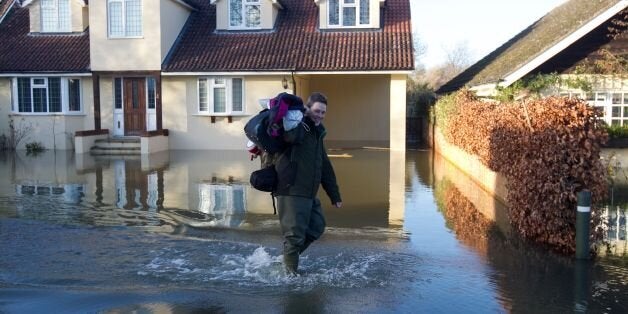 Yet more awful weather is on the way as heavy rain, wind and snow are set to batter Britain.
Forecasters warn that the appalling conditions which have ravaged communities show no signs of abating, with heavy rain expected tomorrow and Saturday.
A "multi-pronged attack" of wind, rain and snow is expected to strike tomorrow, with heavy rain leading to more potential flooding as downpours of up to 40mm (1.6 inches) could fall in just six hours, with gusts of up to 70mph, a
Met Office spokesman said.
Around 56,000 households remain without power after gusts of up to 108mph battered parts of the country in the "Wild Wednesday" storms, which left one man dead and hundreds stranded as transport networks were hit.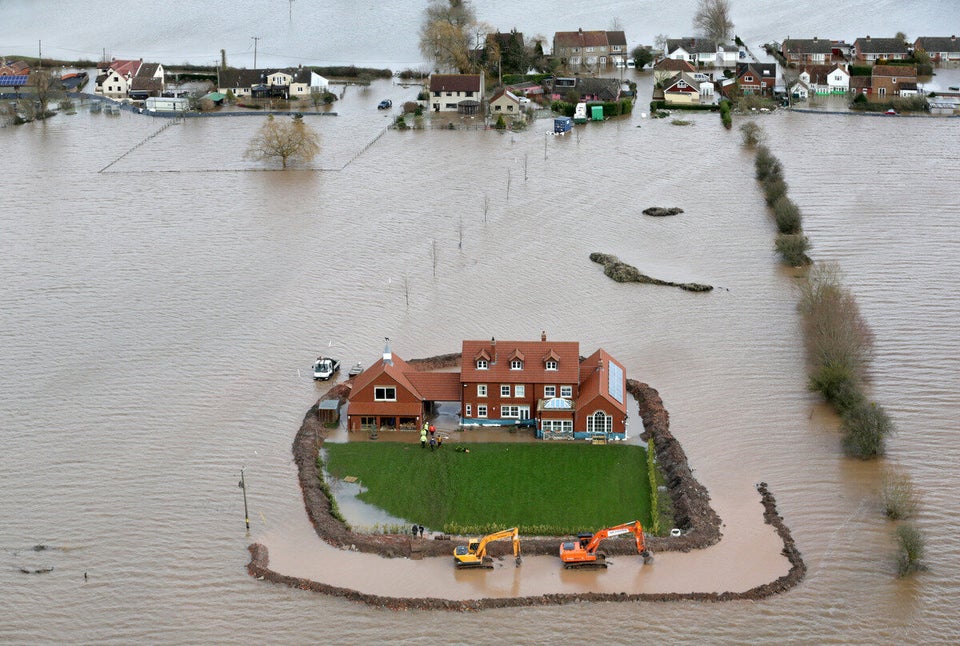 Aerial Images Show Alarming Extent Of Somerset Flooding
Communities in southern, south west and central England remain at risk of flooding as heavy rain is expected tomorrow and Saturday.
The Environment Agency (EA) still has 16 severe flood warnings - which mean a risk to life - in place in the Thames Valley and Somerset, as well as 128 flood warnings across England and Wales.
As well as surface water problems the rain could also impact on already full to bursting rivers while some coastal areas could be at risk as blustery conditions could bring large waves.
In the highlands of Wales, northern England, Northern Ireland and Scotland, the rain could turn to snow, with 5cm to 10cm (2-4 inches) falling above 300 metres and perhaps as much as 20cm (8 inches) above 400 metres.
Windsor, Maidenhead and communities along the Thames in Surrey remain at high risk of flooding from the River Thames today and Friday, with significant flooding of homes and businesses expected.
The Thames has recorded some of its highest levels for 60 years, the Environment Agency said, and while water levels may fall today they are expected to rise again on the Thames and Severn, affecting places already experiencing flooding.
Flooding continues on the Somerset Levels and Moors, and there is still a high risk of coastal floods in Dorset.
EA chief executive Paul Leinster said: "We are continuing to see the very real and devastating impacts that flooding can have on communities and businesses. We know the distress that flooding can cause and are doing everything we can to reduce the impacts.
"Some communities will see a brief respite today, but unfortunately the risk of flooding will continue. We ask people to remain vigilant and take action where necessary.
"We expect to see river levels rising again with more rain forecast for Friday and Saturday."
EA programme director Toby Willison later told a Whitehall press briefing: "I expect we will see hundreds of properties looking to flood."
The Government's chief fire and rescue adviser Peter Holland said that 70% of the fire and rescue services in England and Wales were now involved in the flood relief effort.
"We are now seeing the largest deployment of fire and rescue service assets since the Second World War."
In Winchester, Hampshire, Environment Agency teams have been creating a temporary flood storage area to cope with
water levels on the River Itchen.
The agency has also been out across the country, ensuring blockages are removed from rivers, putting up temporary defences and supporting the deployment of sandbags by local authorities.
Christchurch Borough Council in Dorset has come under fire from ministers after it emerged they were charging locals £30 for four sandbags on the basis that the situation in the area was not an emergency.
Bank of England governor Mark Carney said the chaos even threatened to derail Britain's economic recovery.
Since early December, 5,800 properties have been flooded across the country, with high winds causing further problems yesterday.
Related