Labour and Ukip are celebrating after the Wythenshawe and Sale East parliamentary by-election, with Mike Kane holding the seat for the Ed Miliband's party with 13,261 votes. Ukip came in second polling 4301 votes, pushing the Conservative candidate back into third with 3479 votes. It was a bad night for the Liberal Democrats, polling a paltry 1,176 votes - not enough to hold their deposit.
The result means Labour has increased its share of the vote by 11%, while Ukip has increased it share by an impressive 14%. The Liberal Democrats share plummeting by 17%. Some 24,024 votes were cast in total - a turnout of 28.24%.
Speaking after the result, Kane said voters had "sent a very clear message" to the Government. "They have rejected the failed policies of the out-of-touch Tories, they have rejected the isolationism and scaremongering of Ukip," Kane added. "It's a result which emphatically demonstrates that people here know the NHS is not safe in David Cameron's hands, and that we've had enough of his utterly out-of-touch government."
Speaking to Sky News, Ukip candidate John Bickley said the result showed his party were "in better shape" than the Conservatives. "We've taken votes off all of them and that includes Labour" he said. Bickley's sentiments were echoed by Farage, although the Ukip leader said he remained unhappy with the way the election had been run, particularly the fact that postal votes were issued just three days after the election was declared.
Farage quipped that he'd "been on benders longer than this campaign". Speaking to the media after the count, he said: "This is nothing to do with this result, this is a point I have made at every single by-election and I'm going to go on making it, it's just at Wythenshawe it reached farcical proportions.
"Nominations for candidacy closed on the 29th of January, first postal votes arrived on the 1st of February, that's a three day campaign. And it doesn't matter how people voted but the point about democracy is you should see who the candidates are, see what their agendas are and then form an opinion.
"That is not happening and it is reducing, frankly, these by-elections to farces. It is a system that allows the incumbent party to call the by-election at a time of their choosing and it doesn't give a free, open contest to anybody else. We are a party that is all about British democracy, we want sovereignty to come back to this country but we also want free, proper open elections and what the postal system has done, not what it intended to, it has reduced by-elections frankly to farces where half the votes weren't decided today on February 13th they were decided a fortnight ago. I'm a reformer."
On Bickley's performance, Farage said: "It represents really good solid, steady progress, not an easy constituency for us, we have got no history here. When you start from a base of nothing and your level of public recognition is very low then to do what we have done in a very short space of time, no delighted, anything over 15% was what I was hoping for and had it been over 20%, it would have been a terrific result for us so 18%, no I'm very pleased."
Earlier, opinion polls suggested a big win for former Manchester councillor and Labour candidate Kane. However the real intrigue surrounded the performance of the Ukip, with commentators predicting Nigel Farage's party could make significant gains.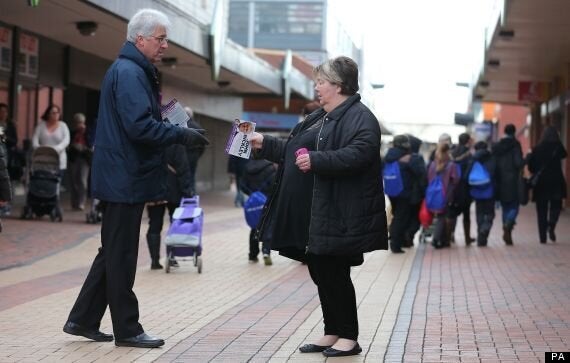 UKIP candidate John Bickley talks to a member of the public
Bickley, who grew up on the Wythenshawe estate, hoped to pick up disaffected Conservatives and provide a boon for the party ahead of the European elections in May, on which Farage has staked his leadership.
Thursday's by-election was called after the death of MP Paul Goggins who died in January at the age of 60, having represented Labour in the constituency since 1997. So important is the Wythenshawe seat that a series of grandees, including Ed Miliband, have visited the area in recent weeks hoping to bolster support. BNP leader Nick Griffin has also been to the constituency to campaign for his party's candidate.
More from the Press Association:
The seat is mostly made up of the inter-war council estate of Wythenshawe, built to house the overspill population of Manchester and one of the largest council estates in the country. To the west is the more affluent suburb of Sale. In the 2010 general election Labour held the constituency with a majority of 7,575, or 44.1% of the vote. The Tories came second on 25%, Liberal Democrats third on 22% and Ukip polled 3.45%.
As it is doing nationally, Labour campaigned on the "cost-of-living crisis" in the by-election while also highlighting council cuts and problems in the NHS at Wythenshawe Hospital. Bickley, who has worked at a senior level in music giant EMI, as well as for Playstation, campaigned on a platform of Labour letting down its supporters, on jobs and immigration.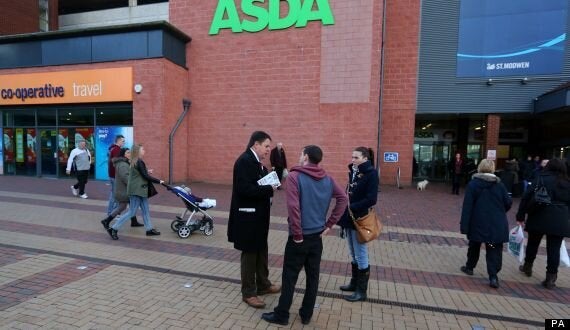 BNP leader Nick Griffin talks to a members of the public as he canvases for votes in Wythenshawe
Tory candidate Daniel Critchlow was a political unknown before this election. A 26-year-old vicar at St Hilda's church in Firswood, Wythenshawe, he has never stood for a council or parliamentary seat before. Mary Di Mauro, a former secondary school teacher and currently a Manchester councillor, is the Liberal Democrat candidate.
The other candidates are Captain Chaplington-Smythe for the Official Monster Raving Loony Party, Eddy O'Sullivan for the British National Party, and Nigel Woodcock for the Green Party.