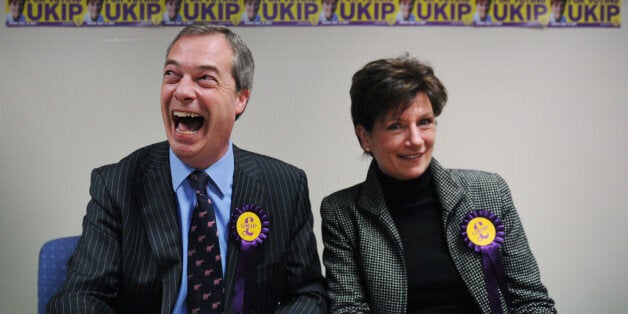 Women are "slowly but surely" taking over Ukip and will be the face of the party in the run up to May's European elections, Nigel Farage has said.
The Ukip leader said female candidates would "dominate election coverage" for the party over the next four months as a direct result of his leadership.
"Nobody has done more in Ukip to promote women than I have," he said. "When you get the results from European elections you'll be astonished to see as many women as men in the top slots in Ukip, things have changed."
The Ukip leader told BBC Radio 4's Women's Hour on Friday: "The women are slowly but surely taking over Ukip."
However Farage said positive discrimination, which would see female candidates chosen ahead of men in order to equalise the gender balance of the party, was "demeaning".
He also said the Ukip policy of diverting foreign aid to flood relief in England was more popular with women than men as "women tend to be people who think very much about the family and budgets, men tend to be more irresponsible".
Ukip has not always had the best of images when it comes to the place of women in society. Last month Farage was criticised for claiming that there was not "any discrimination against women at all" in the City of London.
And MEP Godfrey Bloom caused an uproar at the party's last annual conference in London when he joked that meeting called to debate the advancement of women in politics was "full of sluts".
Ukip has been pushing several women into high profile positions. Eastleigh by-election candidate Diane James makes frequent media appearances and European parliamentary candidate Janice Atkinson represented the party on BBC Question Time on Thursday evening.
It is not just Ukip that is seen as having a problem with women. David Cameron has also struggled to overcome the impression that the Conservative Party has a "women problem" - much to the delight of Ed Miliband and Labour.
Former Tory environment secretary Caroline Spelman told The Guardian today that the party should consider introducing a 50:50 gender split for candidates and should not rule out the possibility of all-female shortlists.
Popular in the Community