Flames erupted through paving slabs on a London pavement as commuters made their way to work on Monday morning, cause firefighters to evacuate 50 people from the area.
The explosion came from a fault under an electrical manhole cover outside a branch of Iceland on Caledonian Road in Islington, according to the Islington Gazette.
Power was out for local businesses and roads were closed until around 10am.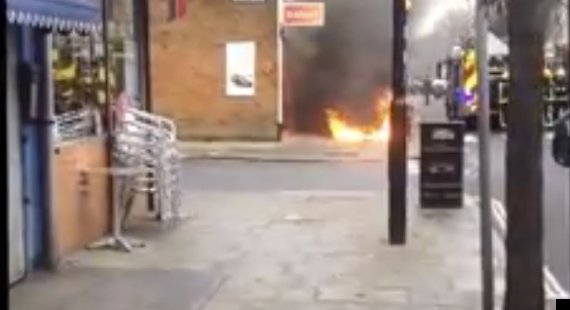 The fire was captured by a film on a mobile phone
A spokesman for the London Fire Brigade said: "We were called to a fire from an electrical manhole cover that blew.
"Around 50 people were evacuated as a precaution from the area outside a supermarket."
Commuters originally reported the fire had been one of the shops
Caledonian Road Iceland appears to be on #fire, buses on diversion. pic.twitter.com/pCzyAgmVj0

— John Sandall (@John_Sandall) February 17, 2014
The blaze was brought under control by 10am and the road has since been reopened.
Umit Bakir, who runs a minicab business nearby, told the local paper: "The bulb in my office kept flickering so I knew something was going on with the electrics.
"I looked outside and I could see the fire coming up from underground. Then the fire brigade came and closed the road.
"My business was far enough away, but if I had been at Iceland I would have been a bit worried."
Last April, a pedestrian narrowly escaped being seriously injured after a explosion beneath a road in Pimlico saw flames rocketing up above the pavement, only metres from where he was standing.
After the National Grid investigated they said it appeared to be UK Power Networks cable that had blown.