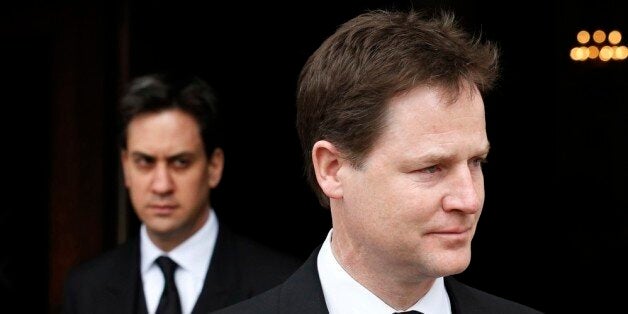 Here are the five things you need to know on Monday 17 February 2014...
1) CLEGG PLAYS FOOTSIE WITH LABOUR
"Nick Clegg has hinted at a possible post-election deal with Labour, in a move that will be seen as evidence of an attempt to thaw the Liberal Democrats' relationship with Ed Miliband. In an interview for a BBC Radio 4 documentary to be broadcast on Monday night, the deputy prime minister praises Labour for embracing the possibility of sharing power while accusing David Cameron of being driven to the right by backbenchers... Reflecting on the role the Lib Dems would have in a possible Lib-Lab coalition, he said: 'There is just no doubt in my mind that if there were a Labour-Liberal Democrat coalition, we the Liberal Democrats would absolutely insist that government would not break the bank.'"
The deputy PM also told the show that "the Conservative party has changed quite dramatically since we entered into coalition with them. They've become much more ideological, they've returned much more to a lot of their familiar theme tunes."
Meanwhile, Lib Dem grandee Shirley Williams told the show: "I think [Clegg] hasn't really sufficiently used effectively the experience and knowledge of some of the more senior members of the party … Nick surrounds himself with people his own age or considerably younger. He's got some good and some frighteningly bad as the case may be. And I think that that's unwise."
2) 'GETTING IT IN THE NECK'
Labour's proposal for a levy on properties worth £2m or more - a policy borrowed from the Lib Dems - has come under fire from... Labour peer and Miliband adviser Lord Adonis. The FT has the story:
"Labour faces a backlash from business people over its proposal for a "mansion tax", one of the party's most senior figures has said. Lord Adonis, the former transport secretary and current shadow infrastructure minister, is seen as one of the few Blairite figures in the senior ranks of the party under Ed Miliband. Speaking at an IPPR/Policy Network conference on British capitalism, the peer said: 'The single policy that Labour has which is most unpopular - that every time I meet anybody who is at all well off I get it in the neck with clockwork regularity - is the mansion tax.'"
3) ALEX VS GIDEON AND JOSE
Has the Scottish First Minister bitten off more than he can chew? He seems to be fighting a war on several fronts. From the Telegraph:
"Alex blueprint for breaking up Britain was under attack... yesterday after a devastating intervention from the head of the European Commission and calls from the official Yes campaign for a Plan B on currency. Just days after George Osborne ruled out a currency union, Jose Manuel Barroso claimed it would be 'difficult, if not impossible' for a separate Scotland to join the EU. He said it would have to apply for membership from scratch, and would struggle to win the approval of all 28 member states."
The BBC report that Salmond plans to come out fighting:
"Scotland's first minister has vowed to 'deconstruct' the chancellor's case against a currency union, when he makes a speech to business leaders later. Alex Salmond will say George Osborne's position is 'ill-thought out and misinformed'."
It's easier to attack the Conservative chancellor; slightly more difficult to dismiss the EU Commission president.
BECAUSE YOU'VE READ THIS FAR...
Watch this video of a cat that thinks its Wolverine - complete with adamantium claws.
4) WHEN MONEY WAS AN OBJECT
"Money is no object" when it comes to flood relief, David Cameron proclaimed last week. Well, it used to be. From the Guardian splash:
"Flood-stricken communities, including those visited by David Cameron in the Somerset Levels and Yalding in Kent, have been left without planned defences following government funding cuts, the Guardian can reveal. Undelivered defences, totalling many millions of pounds, also include schemes on the stretch of Devon coast at Dawlish where the mainline railway fell into the sea and near the nuclear power station at Hinkley Point in Somerset. Ministers have been heavily criticised for cutting flood defence spending by almost £100m a year after taking power, but this is the first time specific projects affected by the cuts have been identified.
Italy could have its youngest-ever prime minister by the end of the day - from the FT:
"Matteo Renzi is to be formally tasked today with forming Italy's fourth government in less than two years with the aim of presenting his reform programme to parliament by the end of the week. The 39-year-old leader of the centre-left Democrats, who ousted prime minister Enrico Letta in a party power struggle, has a mid-morning appointment at the presidential palace where he is expected to gain the mandate to govern from Giorgio Napolitano, Italy's 88-year-old head of state."
From yesterday's Sunday Times/YouGov poll:
That would give Labour a majority of 86.
John Harris, writing in the Guardian, says: "On climate change, Ed Miliband must match his bold words with real action."
Yasmin Alibhai Brown, writing in the Independent, says: "The floods may have finally shocked rightwingers into taking climate change seriously."
David Skelton, writing in the Telegraph, says: "The Tories can be the new workers' party."
Got something you want to share? Please send any stories/tips/quotes/pix/plugs/gossip to Mehdi Hasan (mehdi.hasan@huffingtonpost.com) or Ned Simons (ned.simons@huffingtonpost.com). You can also follow us on Twitter: @mehdirhasan, @nedsimons and @huffpostukpol