Nightclubs are making a business model out of a sexist, misogynistic lad culture which glorifies rape and sexual violence towards women, feminist campaigners have claimed.
Night time economies are using a "dangerous" presentation of women and are actively encouraging this culture, according to one researcher, with many events using disturbing advertisement material to promote their nights.
One poster features a woman with duct tape over her genitals, in another a woman crouches, legs splayed, in front of a man's crotch, while one video even featured a student saying he was going to rape a female student.
A number of students say they are put off going to clubs due to this objectification of women, with one student telling HuffPost UK nights with themes such as pimps 'n' hoes "force women students into conforming to being sexualised while male students are not".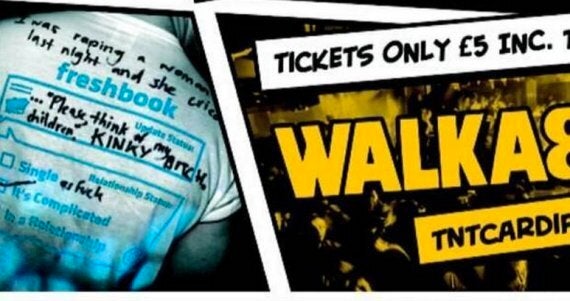 'I was raping a woman last night and she cried': a Cardiff Met student union advert for a night out in Walkabout
Freya Potter, a third year student at Leeds University, and coordinator of her union's feminist society, says lad culture is used in advertising "all the time".
"It goes beyond just sexually objectifying women and the entire nights are based on this culture; the customers become the advertisements and the attractions in photos and videos which I find really exploitative.
"Women customers are used as an attraction to tempt more people to come. The behaviour of the staff and then other customers creates this really pressured environment which makes a lot of women students really vulnerable."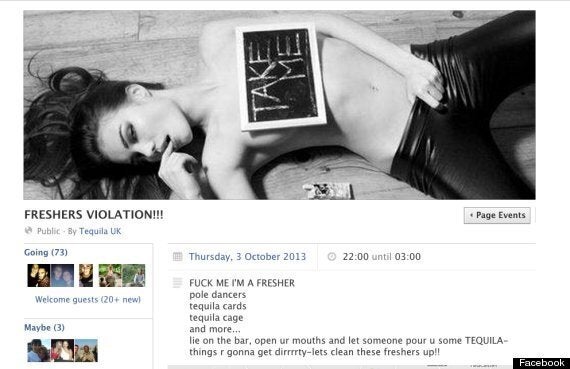 An advert for a night club event
Laura Bates, founder of Everyday Sexism, listed nights such as slag and drag, rappers and slappers, and CEOs and corporate hoes which are put on by clubs to attract students. "Women again and again are valued by their sexualisation alone," she said at a recent NUS conference on lad culture. "For guys it was fun, for girls it was a uniform. It is about sexual pressure.
"We had one student saying a long line of women were lined up on a stage and told to strip. It was a race. Girls told us they were desperate to fit in and be part of a group, it was very difficult to stand out and be the one who said no.
"The more you hear about this stuff the less harmless it sounds. These are the world leaders, businessmen and CEOs of tomorrow and these are the ideas they are leaving university with."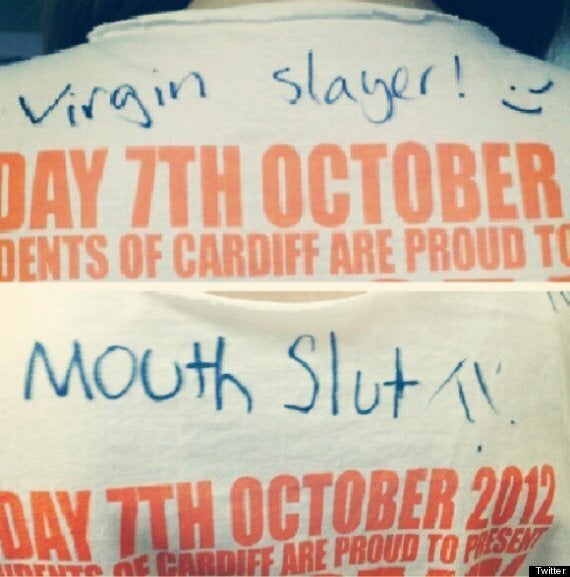 A t-shirt worn by a male student on a Carnage night out in Cardiff
Potter says she is always put off a club if their advertising objectifies women or perpetuates this kind of culture because it "makes me so uncomfortable".
"When the Tequila UK video was released we organised a protest with more than 150 people. Obviously it was a response to this particular video but for a lot of people it was a protest in general about this kind of lad culture advertising and club marketing.
"It is a really narrow, dangerous presentation of women."
Below is an excerpt from the transcript:
Presenter: "How are you going to violate a fresher tonight?"

Student: "I've got one here with me who's just disappeared.. There she is."

Presenter: "And what are you going to do to her tonight?"

Student: "Well she's paying for the cab, she's paying for the drinks."

Presenter: "Strong."

Student: "She's going to get raped."
One student says: "I'm going to fist them in the arse. They won't even know."
The club where the night was hosted has since shut down, but Tequila UK is "here to stay" according to its Facebook page.
In a tweet the company says it has "changed", but still uses pictures of breasts, women crouching before men's crotches and female students kissing as its profile and cover pictures.
When asked by one concerned student what measures it had taken against the inappropriate use of rape in its club night's promotional video, Tequila UK replied: "Yawn."
"From my own experience as a student at Sussex University I regularly collected sexist, laddish promotional flyers from the local clubs which were littered outside our campus," she told HuffPost UK. "Pictures of young, Lolita inspired girls with free shots scrawled across their stomach in lipstick. Pictures of men looking knowingly into the camera whilst the girl they with appeared passed out. Nights called jail bait.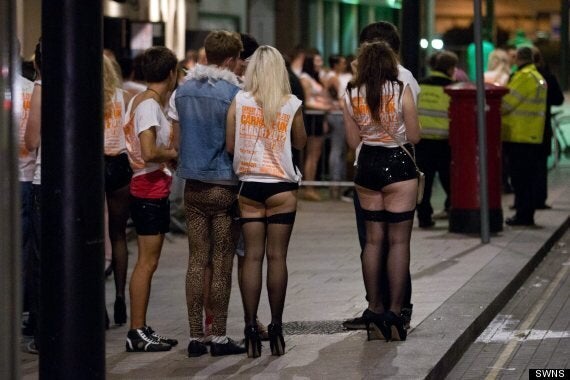 Cardiff students took to the streets in knickers, stockings and corsets, for a 'pimps and hoes' themed night
"During the research I heard from many students who had similar stories to tell. Club promotions flyers where girls were tied up by their hands and feet and had duct tape over their genitals. A story of a bouncer telling a student he would let her in without ID if he flashed her boobs, to which the lads in the queue encouraged her with chants. Promotional campaigns where the club would text you pretending to be a girl you got with the week before.
"So many anecdotes such as these which cause women to avoid certain club nights. Many of the participants I spoke to felt that the night time economies actively furthered lad culture whether it was through their promotional materials, encouragement to drink through deals, or by infiltrating campus and judging women on their looks for instance."
Story continues below gallery..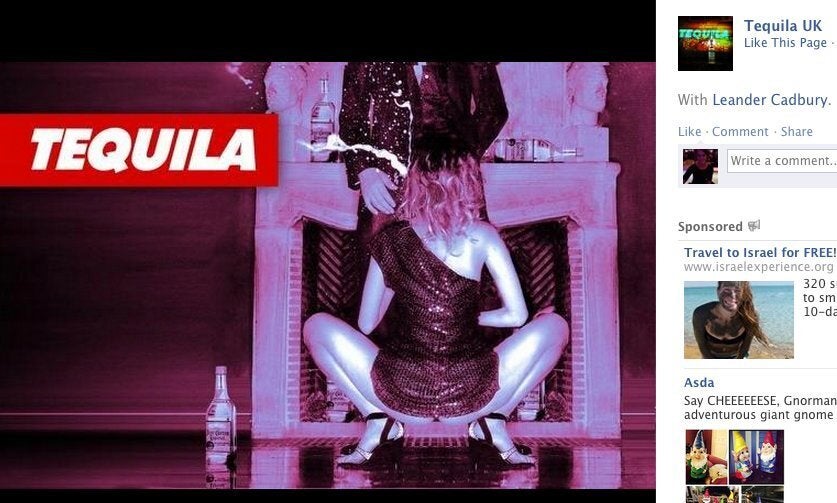 Lad culture in nightclubs
Kelley Temple, women's officer at the National Union of Students (NUS), adds: "Lad culture is often sexist and misogynistic. It's a 'sexualised culture' which occasionally spills over into sexual abuse and it's being used as a business model."
One student, who wished to remain anonymous, told Young: "'Night clubs encourage the whole culture altogether. Club nights advertise women as slutty girls, using them as bait for guys to come. You go to a club and you're marked on your looks. It's slowly seeping in to every aspect."
In a paper titled 'Sexism and Sexuality in Advertising', written by Michael Jacobsen and Laurie Mazur, advertising was deemed to "often reinforce stereotypes of women as sex objects and may contribute to violence against women".
"By instructing men to regard women's bodies as objects, ads help create an atmosphere that devalues women as people, encourages sexual harassment, and worse."
Kelly Teeboon, a student campaigner for women at Liverpool John Moores University, said nightclubs help to reinforce the existence of lad culture at university.
"I think night clubs almost use lad culture, sexism and misogynistic 'banter' to advertise and sell the clubs. I don't just think this is just night clubs I believe this is also many other companies business model. We are in a society that excuses sexism and misogyny under the false pretense that 'sex sells'.
"Me and most of my friends are put off by the notion of 'geeks and sluts' and 'pimps and hoes'. I also know of many other students that are put off clubs that are too sexualised as it makes them feel uncomfortable."
"I think it is society that has normalised sexism in the name of capitalism, which is an extremely difficult ideology to resist or complain about in today's society."
A spokesperson for night club promoter Rough Hill said: "We pride ourselves on high standards, both in our events and the promotional activity before hand. [We] try extremely hard to monitor any content put out from Rough Hill around the country and from time to time small things slip though usually posted by young, enthusiastic members of staff, often in their first year of university."
A spokesperson for Varsity Leisure Group, owner of Carnage UK, said: "The fancy dress themes are selected by students themselves via social media polls. The theme has only been selected by students three times in the last 7 years.
"The.. "students" that you have referred to may wish to be reminded that attendance at all events is of course entirely voluntary."
All the night clubs and events promoters mentioned in this article have been contacted for comment but have yet to respond.