Another Level star Dane Bowers, 34, Blazin' Squad's Kenzie, 28, nineties soloist Kavana, 36, Pop Idol runner-up Gareth Gates, 29, and 'I Breathe Again' singer Adam Rickitt, 35, have all buried their egos to become one harmonious 5th story.
The next One Direction? We think not. But thankfully neither do they…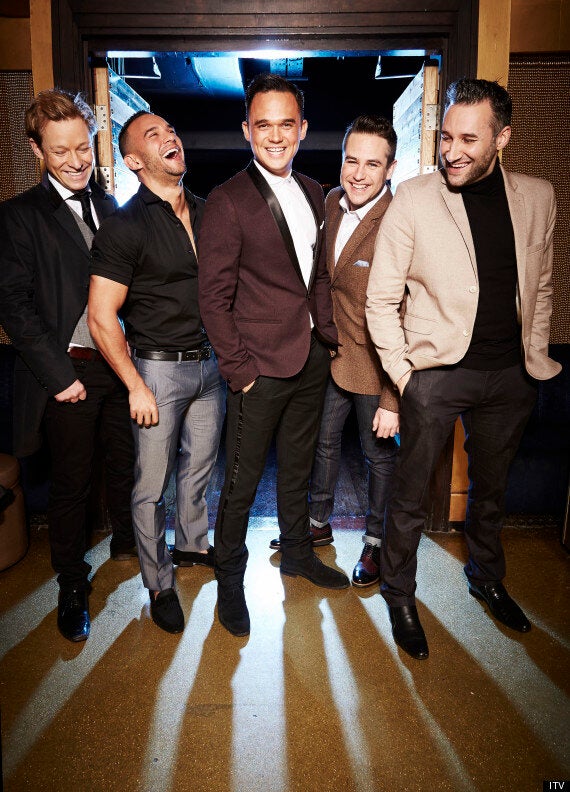 "I just thought it would make great TV," says Dane, a man who is as famous for his sex tape with Katie Price and love of the celeb nightlife as he is for singing.
"I was going to do this with Another Level at first… one of the guys couldn't see how he could fit it in and it's a shame, I was gutted, but I've enjoyed this [5th story] so much."
So how did Dane and the boys, sorry, men - some of whom have never been in a band before - bond?
"We went to a spa didn't we, we had a shower together," jokes Gareth. Gosh, he has grown up a lot since he was at the top of the charts with the angelic 'Unchained Melody'.
A buffed-up Kenzie - now a personal trainer to the stars - quickly adds: "We've been so busy, the tour will be when we get to spend time together."
But Adam, whose music career after leaving Coronation Street in 1999 resulted in what is fair to call a 'one hit wonder', reveals they have had a boozy night out on the town together...
"It got really messy - Gareth went away to do 'Dancing On Ice' and came back and we were still there."
5th story will sing each of their individual biggest hits together. "There are no B-sides then?" I ask. "Just all number ones," Kenzie retorts.
And there's even talk of them staying together as a band after the reality show is over...
"All the boys are great singers… we take our own leads for the five songs and the others do the backing vocals," Kavana says.
"Our voices blend really well actually," promises Gareth.
"If we do decide to go on and record our own music, we'd all do it together," explains Dane.
But Adam adds realistically: "The success or not of this band rests on the public… we will only carry on if they are behind us."
Each of 5th Story's members no doubt have their own reason for signing up to the show but, after the popularity of the first series of 'The Big Reunion' the pound signs must have started flashing.
Gareth says he was "quite skeptical about the idea" of taking part but that soon changed once he "met the lads and saw how fun and lovely they all are".
"It was a no brainer really. It's something that could be huge… or not," he adds.
For the newly 'out' Kavana, who failed to get past the auditions stage on the BBC's singing contest 'The Voice' last year, he grabbed the chance to have another pop at the charts.
"I think if we'd come into this a year ago I might not have said yes, but after seeing the first series and realising 'god they went through this as well' I wanted in."
Adam gives the older and wiser spiel, explaining: "When you are a young kid you get caught up in the whole game of it, this gives us a chance to do it again without all the hang ups. In my experience it's, 'do it cause it's fun.'"
What did their friends and family think of them getting back into the spotlight?
"I just woke up on Boxing Day and they'd announced it without telling us so I got all these texts," says Adam, hinting it's a sore subject.
Meanwhile, Kenzie had to face the wrath of his former Blazin' Squad group members: "It wasn't great when it was announced, it wasn't the way I really wanted them to find out… some of them haven't taken to it too kindly.
"I didn't want to do it with my former band, it worked when it worked. This is current now…. I like being with the old boys."
And it seems like the "old boys" like being with Kenzie too. There is plenty of banter between 5th Story bandmates as they excitedly speak about their new musical venture at ITV's HQ.
Were they always destined to end up together? Tune in on Thursday to find out…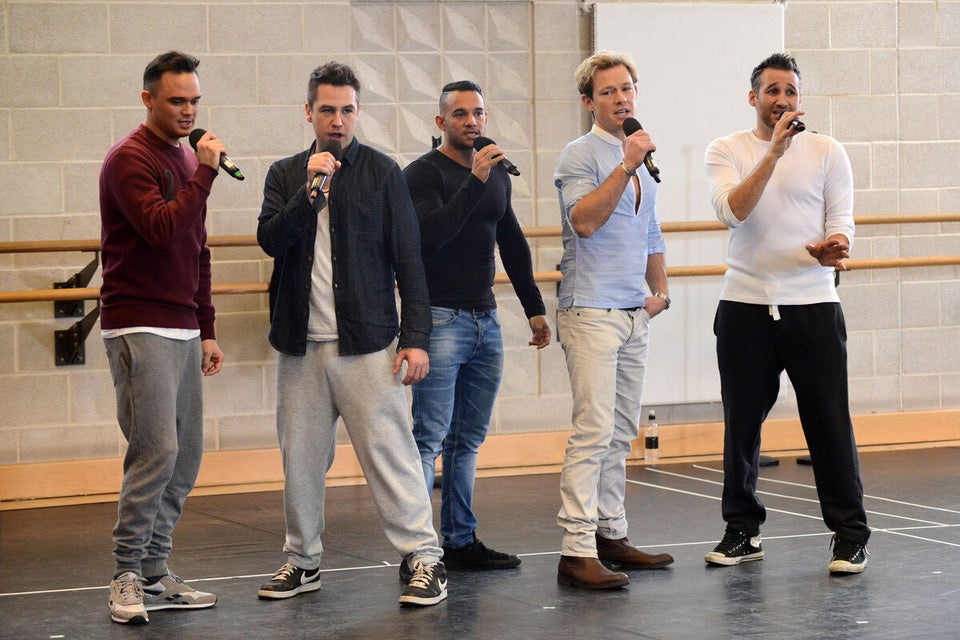 5th Story
Related