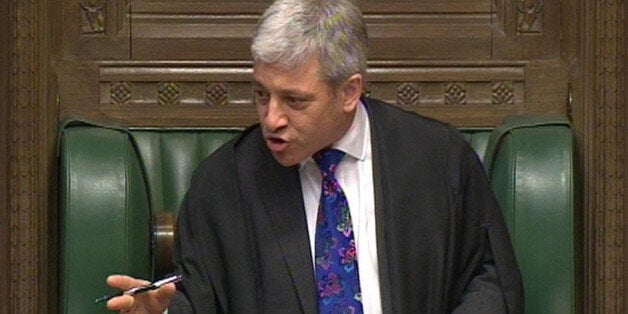 John Bercow should stop "whining" about the rowdy behaviour of MPs during prime minister's questions, a Conservative MP has said.
On Tuesday John Bercow revealed he had written to David Cameron, Ed Miliband and Nick Clegg seeking their responses to evidence that "yobbery and public school twittishness" of PMQs was putting voters off politics.
Bercow frequently chastises MPs for making too much noise during the weekly sessions. He told The Independent that it was not setting "a good example to the next generation of voters".
But Tory Alec Shelbrooke was less than impressed with the Speaker's intervention and accused him of being biased against the prime minister.
"Bercow needs to look in the mirror. Betty never had the need to resort to whining. His biased approach is why he's lost control of PMQ's," he Tweeted. Betty is Baroness Boothroyd, the former Commons Speaker.
Sarah Wollaston, another Conservative MP, said Bercow could change the way PMQs worked if he wanted to. She tweeted: "Speaker could just stop calling the worst PMQ hecklers & ban the crap planted 'helpful' questions."
Focus groups were asked about PMQs as part of the Hansard Society's annual examination of public engagement and more than two thirds said there was "too much party political point-scoring instead of answering the question".
Almost half (47%) said it was "too noisy and aggressive", still more (48%) disagreed that MPs behaved professionally and by a majority of 33% to 27% the panel reported that it put them off politics. Only 12% said it made them "proud of our Parliament".