Özil was denied by Manuel Neuer in the eighth minute, following a rousing start by the home side, to extend his two-month goal drought to 14 games. Two second-half goals from Toni Kroos and Thomas Müller sealed victory for the European champions against 10-man Arsenal, who never recovered from Wojciech Szczęsny's red card.
Towards the end of the match, Özil reacted angrily to verbals from Mathieu Flamini and appeared to shove the Frenchman away. Wenger insisted Özil struggled after his unsuccessful spot-kick.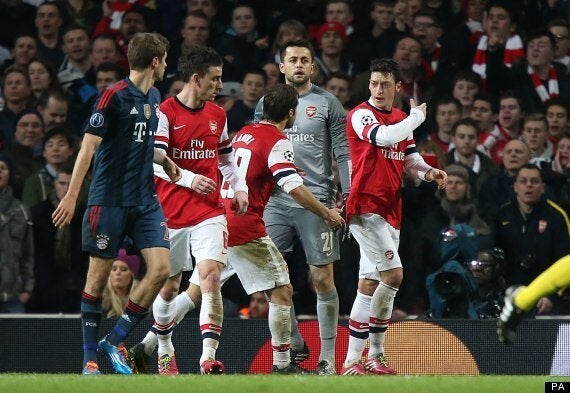 Özil reacts angrily to Mathieu Flamini's verbals in the second-half
"Yes, he was affected by it," the Arsenal manager agreed. "I think he wanted to do so well tonight and that affected him. You could see even five or 10 minutes later on the pitch he was shaking his head and it had a huge impact on his performance.
"You're always concerned about the confidence of your players in the team because the confidence is what gives them the desire to go and to play. In our job we have to deal with that."
Özil, who missed a penalty against Marseille in the group stage, was elected Arsenal's penalty taker in the absence of the suspended Mikel Arteta and substitute Lukas Podolski.
The club-record signing's stutter irked his manager, who prefers "people [that] run properly at the ball".
"He missed a penalty because of his style of play, what can I say?" Wenger added. "They missed one, as well, but the regret I have, of course, is that we missed this penalty. We needed that tonight because you could see that Bayern was on the ropes at the start of the game.
"We had three good chances in the first 15 minutes. We started the game well and I feel to secure them more we needed to score that penalty tonight but he missed it."