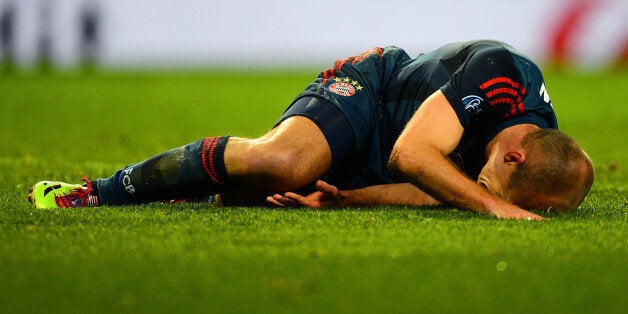 Toni Kroos and Thomas Müller's goals have given the European champions a strong advantage ahead of the return leg next month, but the game hinged on Wojciech Szczęsny's red card in the 37th minute.
The Pole was adjudged to have denied Arjen Robben a clear goalscoring opportunity when he brought him down inside the penalty area, but Wenger insisted the former Chelsea winger, who has gained a reputation for diving, milked the contact.
"He [Robben] has enough experience to know to make more of it," Wenger said. "I thought, overall, Bayern made a lot of every single contact. We are not used to that in England. We complain sometimes and I think many times the fouls that were given today are usually not given in the Premier League, but it's different rules and we have to accept it."
Wenger insisted referee Italian referee Nicola Rizzoli "killed the game" and revealed he accused Robben of exaggerating his fall when he spoke with him.
"I think these rules are different in every country and in Italy they send off for these kinds of fouls," he added. "Our keeper went genuinely for the ball, he touched Robben, who certainly made more of it, as I told him afterwards. Unfortunately, it completely changed the game and basically killed the game.
"The game, until then, was top quality and in the second-half it was, for neutral people, boring. It was one-way traffic. The referee made the decision that, basically, killed the game."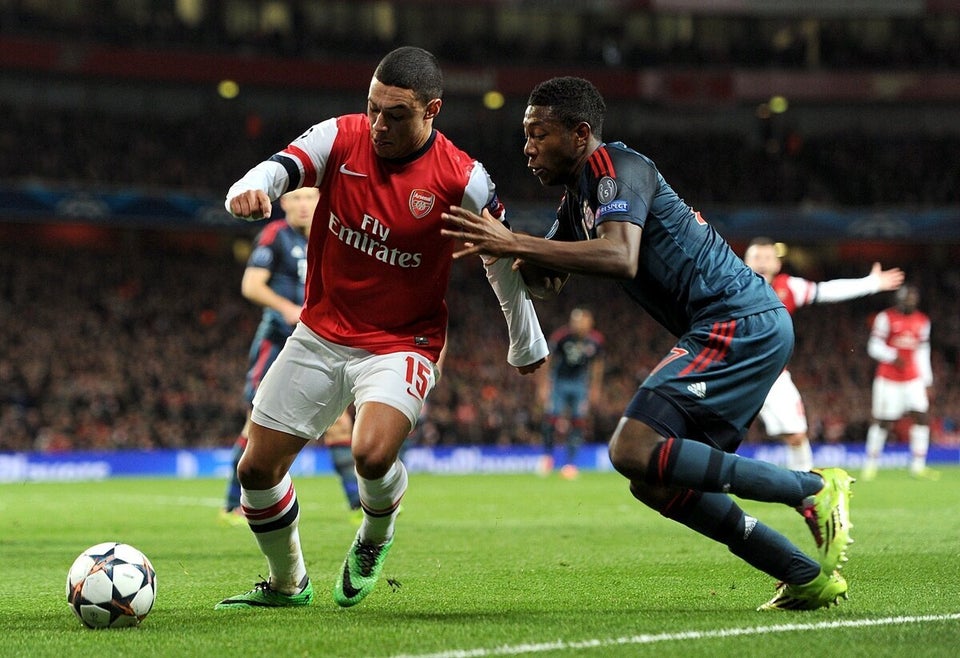 Asked if he thought Robben was denied a goalscoring opportunity: Wenger replied: "I can't debate overnight, I'm not a good enough referee, I have to see it again."
Mesut Özil's missed penalty in the eighth minute eventually proved costly, as Bayern eventually seized control even before Szczęsny was dismissed. David Alaba missed the resultant penalty, but Guardiola's decision to move Philipp Lahm into midfield after the interval proved to be pivotal, as the captain assisted Kroos and Müller's goals.
Wenger lamented Szczęsny's red card because it restricted him from making another alteration. Kieran Gibbs was substituted through injury after half-an-hour.
"The regret I have tonight is that, okay that's a decision that he made, Wojciech misjudged, maybe, the situation but there was no clear desire to make a foul. He misjudged the ball, but after that we had lost Gibbs, we lose the goalkeeper, that means we have had to make two changes, are down to 10 men and have no opportunity to change at all after that, because you never know if a third player gets injured.
"So you sit there, you cannot change, you cannot bring anybody on and you're down to 10 men and run after the ball, and they can bring fresh players on. It killed, completely, the game."
He added: "I just feel frustrated because it was a great football game until half-time and it was no game at all after half-time. On a European night, it's really frustrating because the game delivered what it promised at the start and the second half was not the same. We just had to keep it at 0-0 and try to get a chance on a set-piece or counter-attack."
Szczęsny made an obscene gesture before he trudged down the players' tunnel. Had Wenger seen it?