A press conference has been called for Wednesday afternoon after the arrest of a former policeman, named locally as Eric Devouassoux.
Weapons were seized from the 48-year-old's home, according to reports which also suggested mobile phone records placed him at the scene.
Saad al-Hilli and his wife Ikbal, from Claygate in Surrey, and her mother Suhaila al-Allaf, who lived in Sweden, were all shot dead on a remote forest road in Chevaline, near Annecy, on September 5 2012. Local cyclist Sylvain Mollier was also murdered.
According to local media, police searched places connected with the man and found several weapons at his home.
They also searched a house and garden in Talloires and found a motorbike in the garage, according to newspaper Le Dauphine.
Last month Mr al-Hilli's brother Zaid al-Hilli, who was arrested in connection with the shooting, had his bail cancelled by Surrey Police after the force decided there was not enough evidence to charge him with a crime.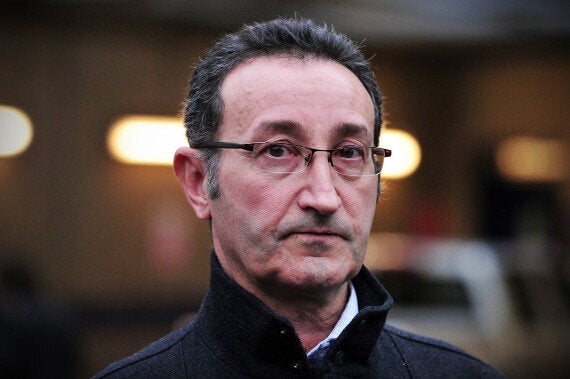 Zaid al-Hilli said he was happy to hear about the arrest
When asked if he was happy to hear about the arrest in France, he told Sky News: "Yes, I am happy, yeah."
Mr al-Hilli was asked whether this arrest, if it leads to a prosecution, would bring closure for him, to which he replied:
"Well, of course, I mean, anything is better than nothing. We'll see what happens. We can't raise our hopes."
According to local media, the man arrested in France is a former municipal policeman who lived close to the scene of the murders in Chevaline.
He was reportedly dismissed from the force last June.
It has been claimed that his mobile phone data indicates he was around the crime scene at the time of the killings.
Annecy prosecutor Eric Maillaud said the arrest followed the release in November of an artist's impression of a motorcyclist seen near the scene.
In a statement yesterday, he said: ''As part of the inquiry into the Chevaline killings in which four people were shot dead and a little girl was seriously injured, a 48-year-old man living in Haute-Savoie was brought in for questioning by
Chambery police this morning and placed in police custody.
''This questioning, which may not be the only one, is the result of witness statements collected after the release on November 4 of an artist's impression of a motorcyclist seen near the scene of the crime who investigators were actively looking for.
''In the interests of the importance of presuming innocence and in the absence of a direct link between this man and those involved in the incident, no further information about his identity will be given.''
Surrey Police said the arrest came from a line of inquiry in France and not as a result of the investigation in the UK.
The murders were discovered by cyclist Brett Martin, who found Iraqi-born Mr al-Hilli, 50, his 47-year-old dentist wife and her elderly mother blasted to death in their BMW.
The al-Hillis' eldest daughter, Zainab, was shot in the shoulder and beaten, but survived. Her then four-year-old sister Zeena lay hidden under her mother's body and was only discovered eight hours after the murders.