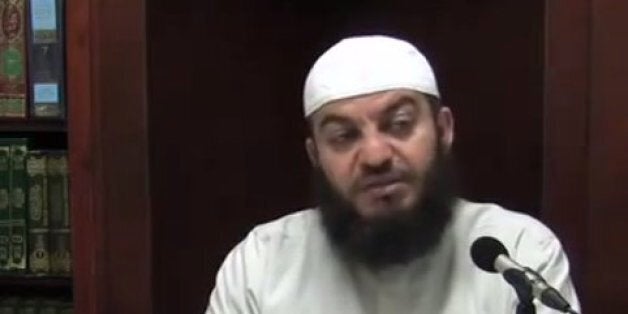 A London university's student union has come under criticism for allowing a pro-female genital mutilation supporter to speak at a debate on campus.
Haitham al-Haddad spoke at the School of Oriental and African Studies (SOAS) on Monday, despite having previously publicly advocated his support for FGM.
In a video posted on YouTube, he lectures on the importance of knowing female circumcision in the UK is illegal and says there is a "proper" way of carrying out FGM.
"In some countries.. they do [circumcision] a way that cause harm for the female," he says. "There are some statistics it can cause 25% death of females.. This is called the Pharaonic circumcision.. We are not talking about that. They cut extensively. That is harmful, definitely. But it is consensus of all the scholars that female circumcision is sunnah [proper].
Haitham al-Haddad speaks about female circumcision
The event was organised by the Islamic Finance and Ethics Society and although al-Haddad spoke about why lending money with interest is forbidden in Islam, several students voiced their concerns at the preacher being given a platform.
Nadje Al-Ali, professor of gender studies at SOAS, told The Huffington Post UK: "I am saddened and angered that the SOAS Islamic FInance and Ethics society had provided a platform for someone who can only be described as a preacher of hate and ignorance.
"Aside from his extremely problematic views on FGM, which would be challenged by most serious Islamic scholars, he is on record of making anti-semitic, sexist and homophobic remarks. Freedom of speech needs to be applied within the principles of not inciting hatred.
"I understand that Dr al-Hadda was invited to speak on principles of Islamic finance, but I am sure that there are plenty of other Islamic scholars and preachers who can speak about this topic and who do not have a history of inciting hatred and spreading very sexist, homophobic and anti-semitic interpretations of Islam."
Elis Gjevori, who described himself as "principal organiser of the event", wrote on the SOAS rants Facebook page:
"Freedom of speech is an important part of SOAS and the freedom of academics to express their views in line with the policies of SOAS is one I am committed to. Furthermore the safety of students and speakers alike is of paramount importance, two conditions that I have taken into account and firmly believe have been met in this case.

"Dr al-Haddad, incidentally having gaining his PhD from SOAS University in the field of Islamic Law, will be speaking about the prohibition of interest in Islam. As an expert in the field of Islamic Economics it is important that we hear what he has to say about this topic. What the speakers believe or don't believe do not necessarily reflect the views of the society, rather what we are providing is a platform for experts in the field of Islamic Economics to come and speak at SOAS.

"I understand that some people may have different views on this matter and I am happy to listen and we can have a discussion about this at the JCR over some coffee."
Nia Roberts, a student at SOAS, wrote on the university rants Facebook page: "Semantics aside, if he comes into SOAS he will be entering and given a platform in what is supposed to be a safe space for us and making a considerable portion of the student population uncomfortable.
"Consider the number of teenage suicides because of bullying related to being LGBT, on top of everyday reproduction of homophobia in all platforms from jokes, conversation to attacks... that goes for sexism too."
Abby Emery added: "How can you say that homophobia and sexism aren't a "serious threat"? A large proportion of the student population face daily "threats" because they are female or LGBTQ+. To the country, maybe, but to individual people and their humanity??"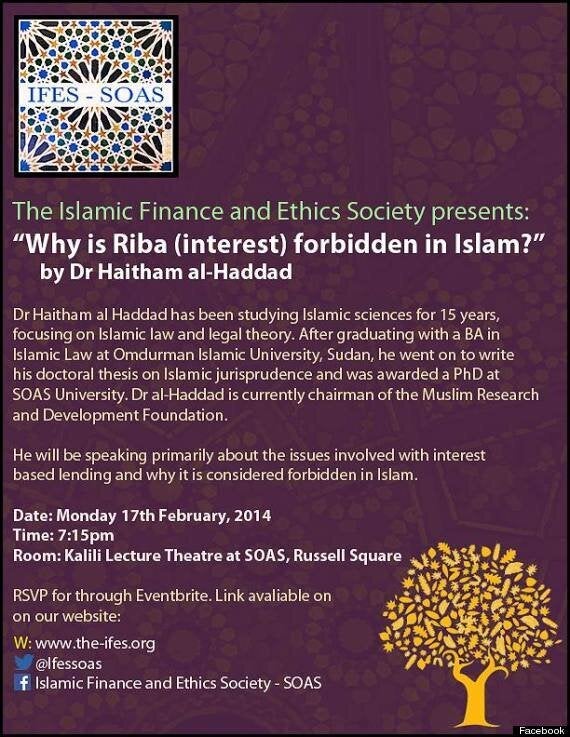 The poster advertising the speech
A spokesperson for the SU told HuffPost UK: "The event was stewarded to ensure it complied with our Equality & Diversity policy, and it stayed on the topic of Islamic finance. We have received no formal complaints."
The Islamic Finance and Ethics Society and al-Haddad have been contacted for comment but have yet to reply.