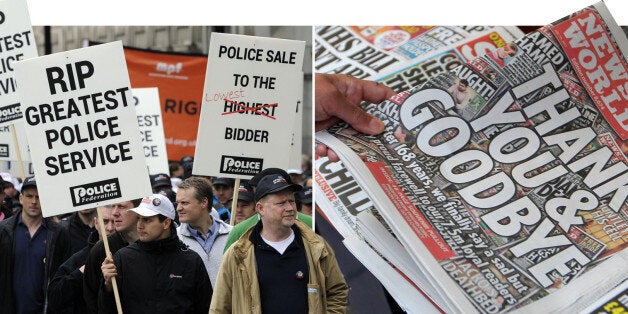 The cost to the Metropolitan Police of investigating the phone-hacking scandal has passed £20m in less than two years, with almost 150 officers assigned to the task, HuffPost UK can reveal.
Figures released under the Freedom of Information Act lay bare the toll the three separate investigations have taken on the cash-strapped force's finances.
The final bill is likely to be much higher as the Met did not include legal costs, saying these will be published for the first time in April.
And the £20m figure does not even cover the first year of the investigations, as costs were not recorded until April 2012.
Some 148 officers were working full-time on the probes last year, the Met confirmed.
The force has investigated the alleged hacking of celebrities' phones, including Jude Law and Sienna Miller, as well as the McCann family and relatives of dead soldiers.
To date, there have been 140 arrests and 60 people charged.
Some critics have questioned the scale of resources being thrown at Operations Tuleta, Elveden and Weeting, which was launched in 2011 when the scale of phone-hacking at the now defunct News of the World became clear.
The three investigations have been running concurrently. Weeting is looking at phone-hacking, Elveden at alleged corrupt payments to public officials, and Tuleta at allegations of computer-hacking.
The £20.24m total cost, racked up in under two years, is almost 10 times the reported bill for Operation Yewtree, which is looking at historic sex abuse and was prompted by the Jimmy Savile scandal.
Responding to the FOI request, the Met said it had only recorded costs since April 1, 2012, and the figures ran up to December 31, 2013.
The bill for Operation Weeting stands at £12.63m, for Elveden it is £5.98m and for Tuleta £1.63m.