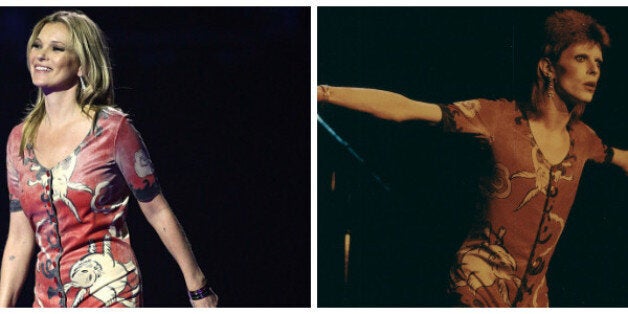 David Bowie chose not to trek across the Atlantic to collect his Brit Award on Wednesday but luckily supermodel Kate Moss was on hand to receive the prize on his behalf.
The 67-year-old, who last won a Brit 18 years ago, remained in New York, with Moss arriving on stage to collect the award for best British male artists wearing one of Bowie's Ziggy Stardust outfits.
Delivering a bizarre speech, Moss (presumably on behalf of Bowie) turned to politics, urging Scotland to "stay with us". Reading out a statement, the 40-year-old said:
"In Japanese myth the rabbits from my old costume that Kate's wearing live on the moon. Kate comes from Venus and I from Mars, so that's nice. I'm completely delighted to have a Brit for being the best male, but I am, aren't I Kate? I think it's a great way to end the day. Thank you very, very much and Scotland - stay with us."
The Thin White Duke first won a Brit 30 years ago, a prize he added to in 1996 with an honorary award for outstanding contribution to music. Moss shunned the Red Carpet on Wednesday, surprising guests at the London event by walking on stage in Bowie's iconic garb, a piece known as the 'rabbit costume', which Bowie first wore in 1972.
More from the Press Association:
Moss and Bowie have had an association for a number of years, with the model interviewing Bowie for Q magazine more than a decade ago, also posing for a cover shoot together.
With Wednesday's win he has become the oldest star to be awarded a Brit, succeeding Sir Tom Jones who was 62 when he picked up his outstanding contribution prize.
Bowie returned to the music world early last year surprising his fans by coming out of what had appeared to be retirement, releasing his album The Next Day after a ten-year recording silence.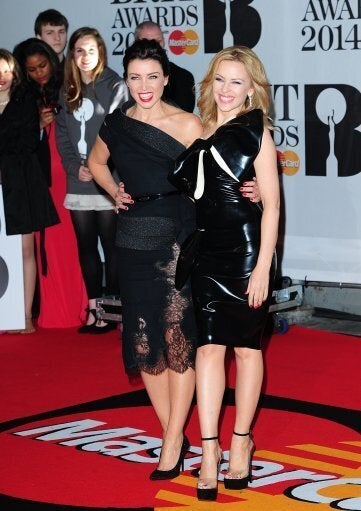 Brits 2014: Red Carpet
Popular in the Community