Cannabis is set to be a billion-dollar legal industry in the state of Colorado by next year after officials suggested far greater volumes of the drug are being sold than anticipated.
But a drug expert has told the Huffington Post UK the massive influx in sales could just be due to the "novelty factor." READ MORE: Legalising Cannabis In Britain, Like Uruguay, 'Would Save Millions'
Colorado was the first state in the US to licence and tax sales of the drug for recreational use, allowing dozens of shops to open for business on Jan 1, 2014 – to a roaring trade.
Since cannabis use became legal on January 1, Colorado has levied a 12.9% sales tax on all transactions, with medical marijuana taxed at 2.9%.
In the lead up to legalisation it was estimated that sales would reach $395million (£237million) in the 2014/2015 financial year.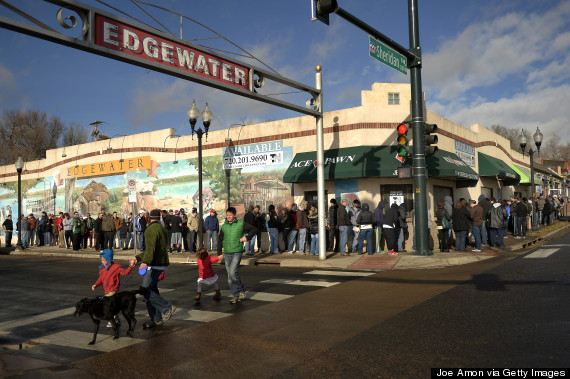 The line stretches around the block on the first day of legal recreational marijuana sales in Denver
But in its first assessment since the New Year Governor John Hickenlooper's budget office has dramatically increased that to $612 million.
When the $345 million in estimated sales of the drug to people with medical conditions is added that means a total of almost $1 billion.
Colorado will collect $117.8 million in taxes from the recreational sales alone, far more than anticipated, with another $15.8 million from the medical ones.
Meanwhile, the only other state that's legalised recreational cannabis has also released its own projections regarding tax proceeds.
As reported by the Yakima Herald, Washington is expected to gain $190 million in cannabis taxes over a four-year period beginning in 2015.
But Steve Rolles, the Senior Policy Analyst for the Transform Drug Policy Foundation, has told the Huffington Post UK that the initial figures are only so high due to "the novelty factor."
He said the huge media coverage both in Colorado and in neighbouring states has caused a massive sales influx and that "we would expect the market to settle down in time."
TOP STORIES TODAY
"The predictions may also have been inaccurate," he added – being based on surveys that underreport use or underestimate peoples preference for a legal supply over a criminal one.
"Either way this has generated substantial tax returns some of which is earmarked for social programs - so that is very welcome.
"We need to give the scheme some more time before we can make a proper evaluation and also be careful in reading across to a possible UK experience - we are an island and would not have land borders with prohibitionist states like Colorado.
"That unique political geography is fuelling the Colorado trade - as it has in Nethrlands border towns. It can easily distort evaluations of the initiatives success."