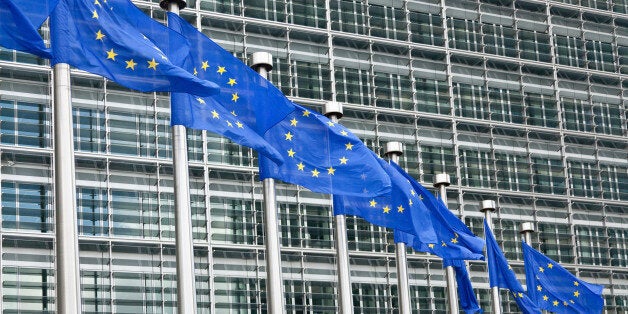 Regulations brought in under the latest European Union treaty have cost British businesses more than £12 billion, the cross-party business campaign for a renegotiation of Britain's EU membership has claimed.
Business For Britain said its analysis of Government impact assessment showed that net costs to UK firms of laws that can be attributed to the Lisbon Treaty amount to £12.2 billion.
But pro-European groups have slammed the report as misleading, with one research group saying the money would have been spent by the companies anyway, EU or no EU.
The majority of the cost can be attributed to green regulations brought in under the treaty which was enacted in 2009, the group found.
The most expensive law requires car manufacturers to comply with EU emissions standards and has cost British companies £7.4 billion, the analysis showed.
Laws requiring firms to reduce their greenhouse gas emissions have so far cost firms £3 billion.
Meanwhile, harmonisation of components that go into motor vehicles has so far cost UK businesses £294 million while standardisation of battery production has cost £40 million, the campaigners said.
The group claimed the final cost to British businesses of laws arising from the treaty is estimated to be £96.5 billion.
Matthew Elliott, Business for Britain's chief executive, said: "The Lisbon Treaty was hugely unpopular at the time and we can now see that it has increased the cost of doing business in Britain.
"Our research makes a compelling case for the Government to use the forthcoming renegotiation to reverse some of the most expensive provisions of the Lisbon Treaty."
Research carried out by the Centre for Economic and Business Research for British Influence indicated that trade with the EU was worth £207 billion a year to the UK.
Peter Wilding, director of British Influence, said: "Britain is leading the way in Europe in efforts to cut 'red tape' laws that can hamper businesses from operating efficiently.
"But almost 85% of the £12 billion potential costs identified by Business for Britain would come from efforts to reduce CO2 emissions. The UK has often set stricter targets for itself than the EU so we may well have these types of rules regardless of the EU.
"We must keep our eye on the bigger prize that is the £207 billion a year of trade with have with EU states."
Pro-European campaign group Business for New Europe also criticised the Business for Britain report.
Alisdair McIntosh, director of Business for New Europe, said: "The report seems designed to paint a distorted picture of regulation and lay it all at the door of 'Europe'."
He added: "The UK Government is taking a targeted approach to reducing the bureaucratic burden, and the European Commission itself has also adopted this approach. This is the way forward not sweeping generalisation and scaremongering."