Given Miliband is indeed the son of Marxist academic Ralph, does live in a multi-million-pound property in north London and did serve as a special adviser to Harriet Harman and Gordon Brown prior to becoming a Labour MP, you could argue that it is a legitimate, even canny, line of attack from the Tories. Especially given how most polls suggest the party is vulnerable to the charge that it is 'out of touch' with the concerns of ordinary people.
The Conservative Party leader has had little life experience outside of Conservative Party politics. David Cameron (who is worth almost £4m) landed his first job out of university with the Conservative Research Department (CRD) in 1988 (allegedly with the help of Buckingham Palace). He went on to work as.. wait for it.. a special adviser (spad) for the then Tory chancellor, Norman Lamont, and was caught on camera standing behind his boss on 'Black Wednesday' in 1992. After Lamont lost his job, Cameron became a spad to another Conservative cabinet minister: the then home secretary Michael Howard. The only job the prime minister has had outside party politics is as 'director of corporate' affairs for Carlton Communications, between 1994 and 2001 (when he became a member of parliament). That's real world experience, eh?
Cameron, incidentally, isn't the son of a Marxist academic - his late father was a stockbroker.
As for George Osborne (who is worth around £4.5m), he had a handful of part-time jobs after graduating from Oxford - including re-folding towels at Selfridge's - before joining the Conservative Research Department in 1994, later becoming head of its political section. Osborne went on to work as... yes, you guessed it.. a spad for Douglas Hogg, John Major's agriculture secretary during the BSE crisis. Next, he became a speechwriter and political secretary for then Tory leader William Hague, before quitting to run for parliament in 2001.
Osborne's dad, incidentally, wasn't a Marxist academic either - Sir Peter Osborne is the multimillionaire founder of upmarket wallpaper designer Osborne & Little and a baronet, too.
So has the Conservative Party chairman unwittingly legitimised attacks on politicians' parents, finances and career backgrounds? And do the Tories have more to lose on this than Labour? Perhaps, in the interests of fairness and balance, Shapps might want to tweet these two images, specially created for him by the Huffington Post UK, as well: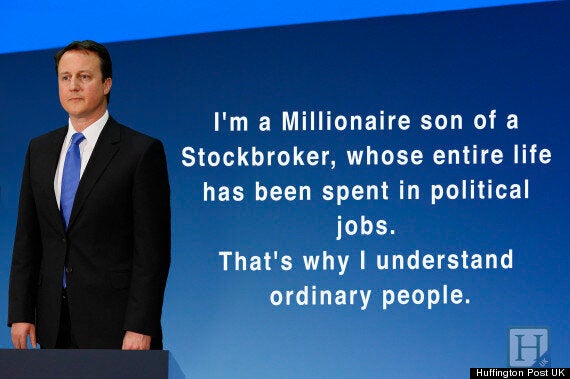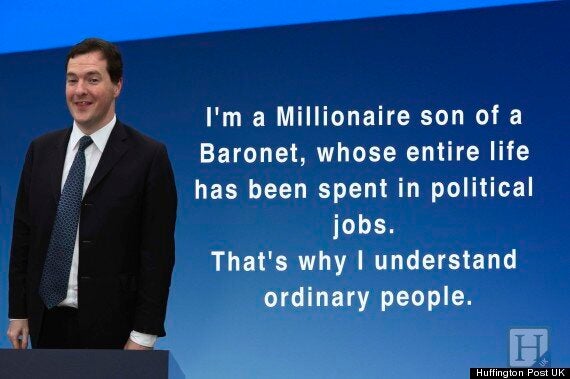 Related