Julian Assange's prolonged stay in the Ecuadorian Embassy has cost the Metropolitan Police £5.3million, in the 18 months since he entered the building in Knightsbridge.
Police are stationed day and night outside the embassy, where the WikiLeaks founder was granted asylum, ready to arrest Assange, who was set to be extradited to face questioning in Sweden on sexual assault allegations.
Assange claimed that Sweden would extradite him to the US over leaking secret documents. In Sweden, he faces potential rape charges from one woman and sexual assault charges from another, stemming from a visit to Stockholm in 2010.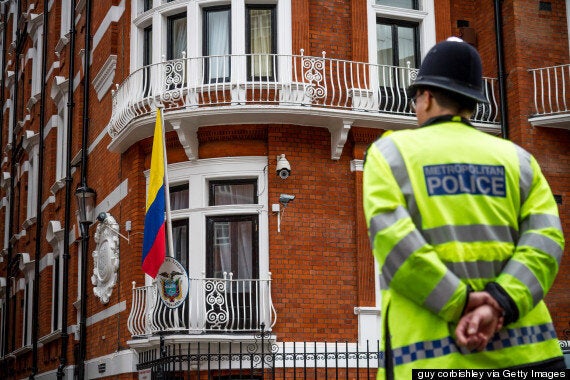 A police officer keeps watch of the Ecuadorean embassy in London where Wikileaks founder Julian Assange has been confined for over a year
The most recent estimated cost available for the policing operation outside the Ecuador Embassy is for the period to 31st December 2013, according to an Freedom of Information request sent to the Huffington Post UK by the Metropolitan Police.
The estimated total cost of policing the Ecuadorian Embassy between June 2012 and the end of December 2013 is £5.3 million, of which £4.4 million is police officer pay.
Around £900,000 has been paid out in police overtime costs, as a direct result of the deployments at the Ecuadorian Embassy. The cost to the taxpayer has been just under £10,000 every day.
Assange could potentially stay in his Ecuadorian Embassy bolt-hole until 2022 – when the statute of limitations on his extradition request expires. This, at current costs, would mean £36.5m is spent on policing.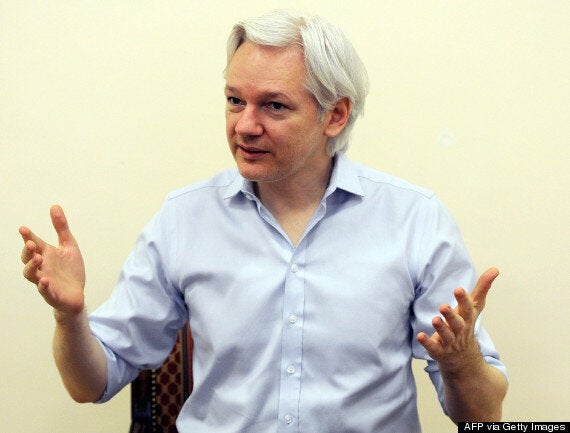 Wikileaks founder Julian Assange speaks to the media inside the Ecuadorian Embassy in London
This month, Swedish MPs called on the prosecutors in the case to travel to question Assange at the Ecuadorian embassy, saying they should accept that Assange will not be leaving the embassy voluntarily.
"It is in the interest of everyone involved in this process that the prosecutor reaches a conclusion to either file charges or dismiss the case, and it is obvious that Assange will not come to Sweden," Staffan Danielsson, from the Center Party, was quoted in the Times as saying.
The new figures come after a swathe of revelations about the transparency campaigners mysterious existence in the embassy were made by his ex-biographer Andrew O'Hagan.
He apparently described the Ecuadorean ambassador as "mad", "fat" and "ludicrous".
"Big Government's opposition to WikiLeaks's work became confused, not least in Assange's mind, with the rape allegations against him," wrote O'Hagan. "It has been a fatal conflation.
"A man who conflates such truths loses his moral authority right there. Because he has no ability to see through other people's eyes he can't see how dishonest this conflation seems even to supporters such as me."
London Assembly Member Jenny Jones said: "This is a terrible was of money for Londoners and has been dragging on for far too long.
"The Mayor should be on the phone to the Foreign Office asking them to resolve this situation and on the phone to the Home Office so that Londoners aren't paying for this expensive stakeout."