Michael Carrick's wife, Lisa, slammed Roy Keane after the former Manchester United captain criticised her husband.
Carrick was interviewed by ITV's Gabriel Clarke after United's gutless 2-0 Champions League defeat at Olympiakos and Keane was left unimpressed.
"That interview was just like their performance: flat," the pundit said.
When asked by Adrian Chiles what Carrick could have said instead, Keane replied: "Say a bit more, give a bit more urgency in his interview. It just reflected United's performance tonight; flat, no urgency. He keeps saying 'Well, next game,' for some of them there won't be another game for them. That's the reality of it."
Lisa Carrick immediately vented her fury on Twitter.
"Roy Keane what a **** says anything to provoke a reaction.. That's all.. Done."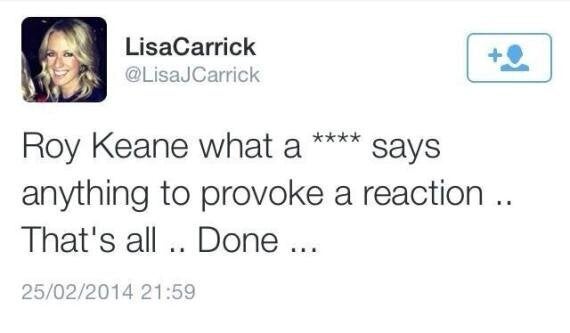 She later deleted the tweet and added: "Deleted my tweet .. Emotions got the better of me .. Just disappointed."
Related