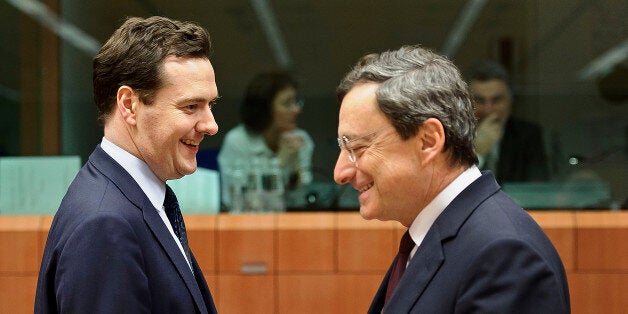 Mario Draghi, the head of the European Central Bank, may have had "more to do" with the improving state of the UK's economy than George Osborne's policies, a leading Bank of England policymaker has suggested.
Ben Broadbent, member of the Bank's Monetary Policy Committee, said that "receding near-term risk in the euro area has been a significant contribution to our own economic recovery".
Speaking at the Institute of Economic Affairs' conference, Broadbent said that the commentators gave too much credit to George Osborne's policies like the Help to Buy mortgage guarantee scheme and the Funding for Lending scheme, warning that the fall in funding costs for UK and European banks could not be explained by "UK policy alone".
The Bank policymaker argued that it had "more to do with" ECB President Mario Draghi's call in July 2012 to do "whatever it takes" to stabilise the eurozone and save the euro, along with the support Draghi received from major EU member states.
He added: "Given their exposure to the euro area economies, the resulting improvement in risk sentiment will materially have benefited UK banks."
Broadbent made clear that George Osborne's policies had helped boost the supply of credit and improve the housing market's activity. "Domestic policy was important in loosening the supply of domestic credit, and a good thing that has been," he said.
This comes as the Office for National Statistics has confirmed that the UK grew by 0.7% in the last quarter of 2013, for a 1.8% GDP growth in the entire year.
If European authorities like ECB boss Mario Draghi had failed to stabilise the eurozone, Broadbent suggested that UK banks would have found Osborne's schemes like Funding for Lending "much more attractive" and it would have had a "much larger" impact.
"It has served partly as an insurance scheme, whose value is greater in bad times than in good," he said.
Broadbent's optimism about the Eurozone contrasted with Capital Economics managing director Roger Bootle, who argued that the EU was a "relative economic failure" and "out-dated".
"If you accept the perspective that the EU is in relative economic decline, the most important thing for Britain to do is to make sure we build up our bridges with the rest of the world and make the most of the growth opportunities there."