A British woman gave birth in the street in New York city after a taxi she waved down to take her to hospital was swiped by a passer-by.
Polly McCourt, 39, who is originally from the village of Black Bourton, Oxfordshire, gave birth at the junction of East 68th Street and 3rd Avenue on Monday.
She hailed the cab with the help of the doorman to her apartment block in the city's Upper East Side after she realised she was going into labour.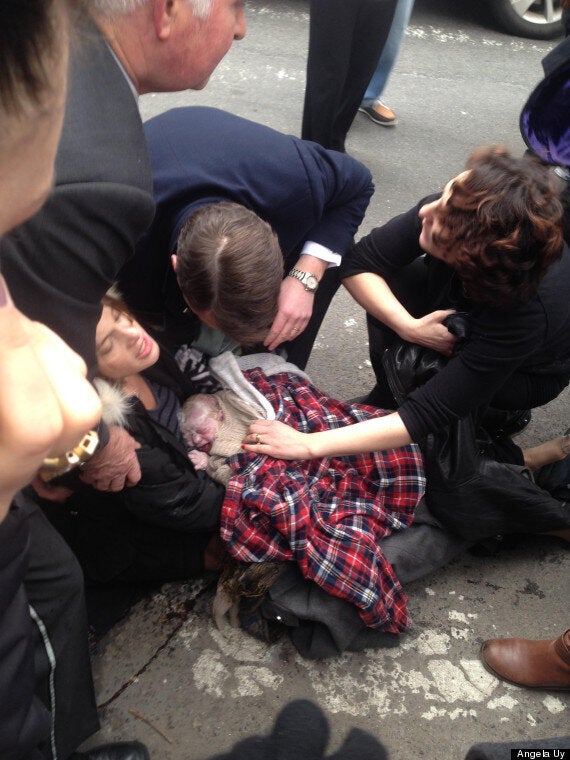 A British woman gave birth in the street in New York city
Speaking from her hospital bed she told reporters: "He was trying desperately to hail a cab and a lady walked out five metres in front and hailed a cab and got into it.
"And I went, 'No, that's my cab, I want that cab'."
Her husband Cian McCourt, 40, who reportedly works for a New York law firm, was stuck in traffic when he received the call and arrived just after his wife gave birth to their daughter in the street during rush hour - a scene caught on camera by a passing news crew.
He said: "I knew instantly that it was Polly, but then I feared the worst. You think, 'She's been knocked down'."
Passers-by helped deliver the little girl, who was named Ila and weighed 7lb 6oz, and kept the pair warm with coats and scarves until an ambulance arrived and took them to Lennox Hill Hospital.
McCourt was so grateful to one of them she gave her daughter her middle name, Isabelle, and is now keen to track her down after losing her phone number.
The episode has since been dubbed "miracle on 3rd Avenue".
The couple have two other children, Conor, six, and Adele, four, according to the New York Daily News, and reportedly moved to New York four years ago from Dublin in the Republic of Ireland.