A major road in the south London suburb was closed after a sewage pipe burst, flooding local homes with filthy water.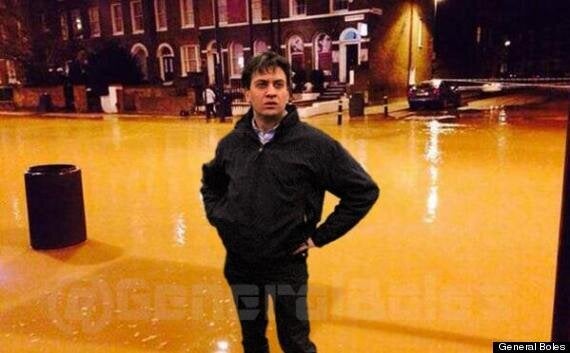 Miliband was accused of using the tragedy as a 'photo opportunity'
Standing up to his knees outside a sodden Chicken Cottage, Cameron said: "This is just the latest in a series of abnormal events to hit the UK. Like Somerset, I shall take personal charge of the cleanup effort. The victims of the 2014 poonami are not alone."
When pushed as to whether he thought global warming was to blame, the prime minister, sporting jeans and a quilted jacket, said: "I very much suspect that it is."
Earlier, Ed Miliband was involved in a heated exchange with a local politician who accused the Labour leader of visiting the sewage leak for a "photo opportunity".
"Why are you here?" asked Tory councillor Keith Deller. "The people of Kennington are not interested in you swanning around in a pair of green Hunters, ankle deep in dirty water."
Miliband replied: "My suggestion is that we work together because this is not about politics. This is about the river of shit running down your High Street."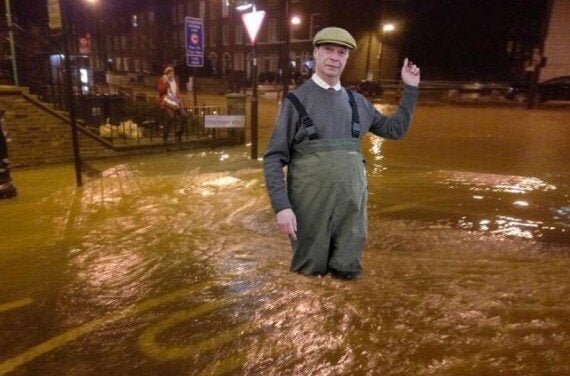 Nigel Farage finally makes it to Kennington in his waders
Nigel Farage is expected in Kennington on Friday, however the Ukip leader has already taken to Twitter to blame "European bureaucrats" for declining budgets in sanitation upkeep.
Farage also demanded that British foreign aid is immediately diverted from Africa to help clear up the mess "before it reaches the Oval cricket ground".