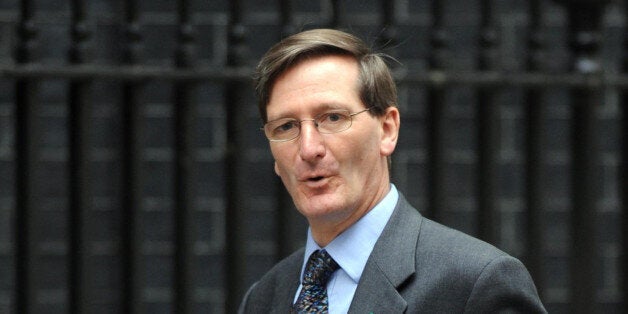 The Conservative Party is suffering from a "hemorrhage" of votes to Ukip the Attorney General has admitted, but Dominic Grieve has warned his party it would be "irrational" to try and outflank Nigel Farage on the right.
The senior Tory, who attends cabinet, said Tory MPs also needed to ditch their "odd obsessions" and focus on ramming home the message that the coalition had rescued the economy if they wanted to win the 2015 general election.
Grieve made the comments, heard by The Huffington Post UK, while speaking to the University College London Conservative Society on Thursday evening.
He also said it had been a "miracle" that the recession had not led to higher unemployment, that Alex Salmond was a fantasist who thinks the UK "owes Scotland a living" and that Britain should not leave the European Union.
Looking forward to the next election, he said: "I don't underestimate Ukip's power, I can see it in my own constituency and Nigel Farage is an entertaining figure.
"There is no doubt there has been from the party, also from other parties, but principally from the Conservative Party, a hemorrhage to Ukip. How profound that is, is very difficult to know. It will explode at the European election I have no doubt about that, but where it will be in May 2015 I just cant predict."
"One thing I am quite sure about is we are not going to get elected in May 2015 by trying to outflank Ukip by being more Ukip than Ukip. Because it can't be done. It's also irrational and you can see very quickly it's just pointless because they are a fantasy party when it comes to outcomes."
The remarks come as Ukip members gather in Torquay for their Spring conference - the anti-EU party's last rally before the crucial European elections which it hopes to win.
Grieve added: "Ukip are very clever at identifying things that make people angry and their grievances and sort of sharing them or empathising with them. But actually they don't have any answers to any single one of them. We should be so careful ourselves not to play this sort of populist politics."
Grieve, the MP for the affluent Buckinghamshire seat of Beaconsfield, told the student Conservatives that much of the anxiety among his constituents was an almost existential the fear of the future and the structure of British society and culture.
He said: "My constituents are, some of them, in state of counsel of despair. The only way to describe it. They write to me, they have probably been Conservative voters in the past and they write to me saying the world is coming to an end, we can no longer govern ourselves, there is a tide of immigrants, our green belt can't be protected.
"There is also a big lack of confidence in politicians as a class, fuelled in part by the scandals over expenses, although in truth they are rather trivial by global standards."
He warned: "There are a whole series of litanies of trouble which are seriously damaging to the Conservative Party and are taking people to Ukip.
Grieve also said he found that voters were having trouble adjusting to a changing sense of what it meant to be British.
"I'm British to the core, but I have to accept my Britishness is likely to be different from somebody who lived in 1814, and yet we have continuity. But bizarrely my constituents can't see that, they think there is some terrible cut coming, beyond which national identity and a sense of belonging is going to disappear.
"You should see the number of letters I get from people who tell me it would be easier to be British in Malaga or Australia or Canada than it is in [Buckinghamshire villages] Stoke Poges or Flackwell Heath, this is very peculiar on any rational analysis.
He added: "That's where the 'Ukippery' is coming from, it's the sense of 'I want my land back'."
Grieve, who was first elected in 1997 and has served in a number of front bench roles, said that to win in 2015 the Conservatives needed to appeal to a "broader sector" of the electorate.
"That can be very challenging but ultimately I think the electorate will tend to move towards supporting a party that provides good governance, common sense solutions to problems, appears broad minded and respective to new ideas and is willing to be pragmatic - all of which are great strengths of the Conservative Party.
"We have to concentrate, the more bogged down we get in what is seen as being peripheral, or if not peripheral slightly odd obsessions, people may sometimes share those obsessions but the chances are they don't share those obsessions as much as we do."
Grieve did not explicitly identify those obsessions, but he added: "We've got some good things to talk about. We should above all stay united. Disunited parties will never get elected. We've got a good message to put out at the next election, we've saved the country from economic collapse, it's not a bad start."
"Oddly I think sometimes my constituents don't raise it enough, incredibly the government has done a bit of abracadabra and people are much more relaxed about the economy, partly because amazingly the economic recession did not lead to mass unemployment, nobody quite knows why, but it hasn't which is a miracle."
Grieve was speaking on the same day that German chancellor Angela Merkel delivered a rare address to parliament, amid clamour among some Tory backbenchers as well as Ukip for Britain to leave the European Union. A choice that the Attorney General rejected.
He said that while he often found himself "banging my head against the door over some of the things Europe visits upon us", Britain was better off inside the EU.
"Something has to be done about it but its not about attacking the monolith but about bringing about change," he said. "There are lots of allies out there in other countries who share this view, but at the same time they wont actually support us or cooperate with us if they think the UK is simply looking to destroy the system."
Grieve also warned that far from strong-arming Westminster into doing its bidding, there was actually paralysis in Brussels. "The parliament the commission and the council are at loggerheads with each other. The EU is almost in a state of internal civil war in its own institutions," he said. "The consequences of that for the EU are really almost catastrophic."
David Cameron has gambled much on his pledge to renegotiate Britain's membership of the EU before putting an in/out referendum to the British people before 2017. And Grieve said negotiations within the EU were "very difficult" but not "impossible".
"It's quite apparent to me the EU is going to have to reform and change," Grieve said. "There is the opportunity for arguing for reform but reform will be very challenging. For many countries treaty change means a referendum and it would not surprise you to know that many countries don't wish to have another referendum on the EU."
He added: "We have to be realistic and take a short and longer term view of what we can achieve in the way the EU operates."
The Attorney General also said while the European Court of Human Rights was "in danger of losing the plot" with some of the decisions its took - it would be wrong for the UK to turn its back on the whole system because of "minor irritants" as then "the convention may actually collapse".
"I'm not sure in my mind if the cost of being irritated by a judgment like the judgment in prisoner voting or for that mater being irritated by the length of time it took to get rid of Abu Qatada is a good reason for pulling out of the convention, it is a good argument for trying to get more court reform," he said.
Grieve added: "I'm aware some of my colleagues may disagree with that." Justice secretary Chris Grayling has said the court has "lost its legitimacy" and indicated he would push for the Conservative manifesto to include a pledge to leave the European convention on human rights.
Grieve said: "I think the EU is seriously dysfunctional but anybody who starts saying the solution is to pull out of he EU really does need to sit down and do a rational cost benefit analysis of what the EU delivers against the problems which it causes.
"The risks attended on pulling out are very considerable because we will continue to be tied by a lot of the regulation and above all our partners will not owe us any favours."
Grieve, the UK government's top legal adviser, said the EU debate mirrored that of Scottish independence - which he said would take Edinburgh on "a magical mystery tour towards a very unhappy destination".
"Alex Salmond is the man of the sunny countenance and the low blow," he said. "I think he is a very dangerous politician and a very able one."
"He appeals to emotion there is an absolute irrationality at the heart of his message and peculiarly he seems to think the rest of the UK owes Scotland a living and will owe Scotland a living after they are gone which I have to say from my mailbag from my constituency simply is a fantasy land in terms of how people will respond."
Popular in the Community