Armed protesters have stormed the Crimean parliament and raised the Russian flag a-top the building, pulling down the blue-and-yellow Ukrainian standard.
Two different groups of around 60 armed men raided and occupied the regional government and parliament buildings in Simferopol, the capital of the autonomous republic.
Reporters on the ground described those who stormed the building wearing black and orange ribbons, colours which symbolise World War II victory and remembrance in Russia.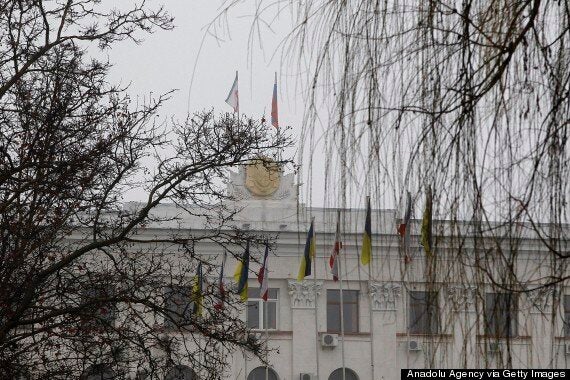 Russian flag is raised at the parliament building in Simferopol, Crimea
As journalists shouted questions to the protesters, one threw a flash grenade back in defiance. AP reported that a sign had been erected, saying "Crimea is Russia".
Thousands had gathered in front of the parliament building on Wednesday with crowds clashing, half brandishing Russian flags, the others Ukrainian flags, mainly ethnic Tatars supporting the new government. Two people were killed and over 30 people were injured.
The Prime Minister of Crimea Anatoly Mogilyov told a local broadcaster he did not know who the armed group were.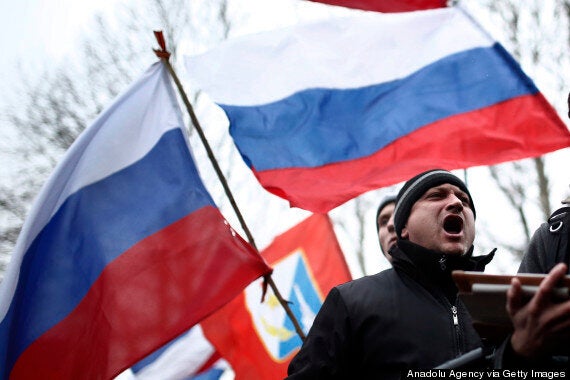 Supporters of Russia gather in front of the Parliament building in Crimea's capital Simferopol
"I will participate in the negotiations. We will swiftly inform Crimeans of the current developments today. Everything is under control, the negotiating process is under way," he said.
Crimea, a region oft-fraught with ethnic tension, was transferred from Russia to Ukraine in 1954, but ethnic Russians dominate. Russian is the first language for most, though Russian-speakers are spread across Ukraine's east and south.
On Wednesday, Russia undertook a training exercise for 150,000 troops, 880 tanks, 90 aircraft and 80 navy ships, in western Russia, a show of force that panicked Washington, prompting US Secretary of State John Kerry to warn that military intervention by Russia would be a "grave mistake".
Back in Kiev, Ukraine's new interim government was been presented to the main protest camp, following the ousting of President Viktor Yanukovych.
The revolutionary "Maidan council" named Arseniy Yatsenyuk, a former banker, to become prime minister, with a cabinet including leading activists.
The US has offered Ukraine's struggling economy loan guarantees of up to $1bn.