The bride wore a flowing white gown with a beaded bodice, the groom a dapper black suit with a slim tie. So far, so traditional. And then there are the gas masks.
Rather than let the current heavy smog affect their wedding shots, this Beijing couple decided to use their masks to raise awareness of the toxic fog.
The arty pictures were taken around Guomao Bridge in Beijing. Severe pollution has hit much of northern China for the past week, with some readings well over 10 times the internationally accepted safety limit.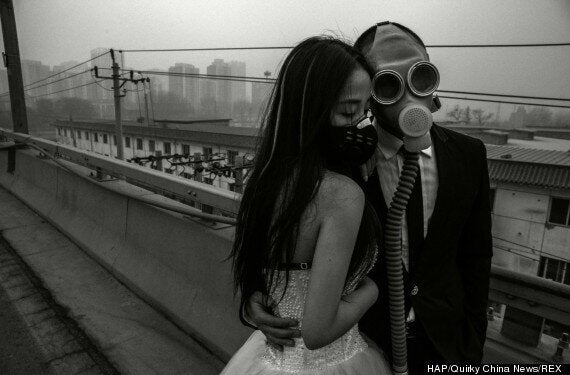 The wedding photos were taken on the Guomao Bridge in Beijing
Zhang Xinyu and groom Bai Beibei met one another at a friend's party and later learnt that the event had been held especially so they could be introduced to one another by their matchmaking friend.
In China it is traditional to take wedding pictures before the actual wedding - sometimes several months in advance, and Zhang and Bai are due to tie the knot in April. They ventured out this week into smoggy Biejing to take their wedding photos.
Due to the weather conditions, it was there photographer who first suggested the idea of wearing the gas masks, and the couple agreed as they felt it was very creative.
Zhang said: "When we have kids, we can show the hazy day mask pictures to them. It's meaningful and creative".