Paddy Power has defended a controversial advert promoting bets on the Oscar Pistorius trial, with the Paralympic athlete accused of killing his girlfriend Reeva Steenkamp by firing a gun at her through the toilet door.
The double-amputee Olympian is charged with premeditated murder in the shooting death of his model girlfriend.
Pistorius has admitted killing Steenkamp but says he shot the 29-year-old model through a toilet door in his house last Valentines' Day after mistaking her for an intruder.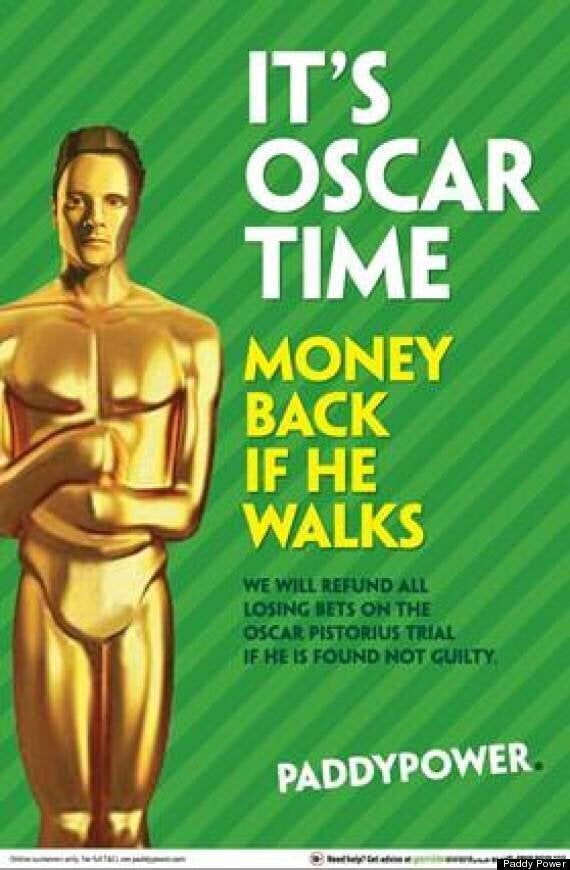 The advert has been placed in UK and Ireland newspapers
With Pistorius mocked up as an Academy Award statuette, the 'Money Back If He Walks' campaign has been carried in national newspapers, offering punters a refund of losing bets if Oscar Pistorius is acquitted and walks free.
"Paddy Power is offering customers the chance to put their money where their mouth is for what will undoubtedly be the most talked about, and reported on, news story of the year," an accompanying press release said.
The advert prompted a horrified response on social media, with many activists saying it was tasteless and dangerous for an advert to treat a women's death as light entertainment.
More than 150 people have signed a petition to get the advert removed, in just one hour. Others have urged followers on Twitter to report the firm to the Advertising Standards Agency.
The petition on Change.org, set up by Jean Hatchet, reads: "The brutal murder of a young woman is not "sport" or "entertainment" and promoting the opportunity to make money from it is a vile and offensive act which anyone with a sense of human dignity and respect for human life must reject.
"138 women died in the UK alone as a result of male violence in 2013. This type of random carelessness for the lives of women by Paddy Power is an affront to those women and their families."
Holly Dustin, director of End Violence Against Women, told HuffPost UK the betting company was making light of "the violent death of a young woman".
"This trivialises and minimises one of the most vile human rights abuses that is taking place not just in South Africa but across the world, and really is rubbing salt into the wound by offering 'money back if he walks'. Paddy Power should withdraw the ad, apologise and make a substantial donation to a women's anti- violence charity."
But the controversial betting firm remained defiant.
"We are offering betting on the outcome of a trial – not a murder," Paddy Power told the Huffington Post UK.
"Given the high profile nature of the case and intense media interest, people will naturally have an opinion on the outcome. We are our customers the chance to put their money where their mouth is – much like any opinion poll.
"The world is interested in and speculating on the outcome of the Pistorius trial and our betting is a reflection of that. It's an indicator of what way the public think the trial will go, much like an opinion poll. Social media is where this trial will be debated so it's no surprise that there has been a big response to our betting."
"There is a clear difference between having a discussion about the trial, and turning the killing into a game," Dustin told HuffPost UK in response to the company's statement. "Would they do this is it was a horrible child murder?"
Hatchet wrote on her personal blog: "This is the extreme violence women and girls are experiencing globally and daily. It is something you should be ashamed to make money from. It is something that should sicken you.
"It is something that should sicken every man who comes online to gamble – which is entertainment I'm told. Dead women are not entertainment."
Pistorius' trial, which could be one of the most watched in recent history, opens on Monday in the South African capital, Pretoria.