Working class children must learn to behave more like the middle classes if they are to get ahead in life, a government adviser has claimed.
Peter Brant, head of policy at the Social Mobility and Child Poverty Commission, said that disadvantaged children need to be more comfortable with middle class social settings and recommended a change in the way that bright working class children eat, dress and socialise.
The discussion about working-class children's ability to 'fit in' to middle-class environments has been at the forefront of UK politics for months.
Last month, a new government programme was launched with the specific aim of encouraging bright children from disadvantaged backgrounds, to apply to top universities.
This initiative followed concerns that stemmed from research by the Department for Education. The findings revealed that many students held negative perceptions towards leading universities such as Oxford and Cambridge.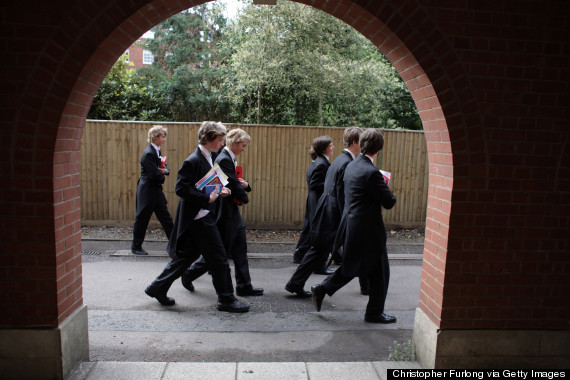 Eton is one of England's top schools, where fees are £33,270 per year of tuition.
Politicians often emphasise the fact that the quality of education which children receive at school is of critical importance to the type of future that they can expect. Last month, Michael Gove spoke at the London Academy of Excellence about 'securing our children's future'.
The education secretary said that 'the facts show - beyond any reasonable doubt - that English state education is starting to show a sustained and significant improvement', and is no longer 'bog standard'. Gove added that it's no longer necessary to 'escape to a better postcode, or into the private sector' to get a good education for your child.
Writing in a blog about social mobility on the Commission's website, Brant commented that although it is undeniable that 'GCSE results, chances of staying in full-time education post-16 and the chances of entering university' are all important factors which influence people's life chances, there are 'several other important barriers to children from less well-off backgrounds being able to achieve their potential', namely their social background.
Brant added that the success of working class children depended on their ability to fit in with social settings such as the office or restaurants.
Echoing findings from the report by the Department For Education, Brant said that worries about 'not fitting in' to selective universities are one of the main deterrents for highly able children. The report, based on surveys and interviews with individual teachers and children, found that some high-achieving ethnic minority pupils believed that they would not fit into Oxford and Cambridge because they were for "white middle-class Eton people".
Whilst Brant was unsure of how to respond to the working classes' alienation from the 'middle class world', describing it as a 'difficult and complicated' issue, he added that policy makers, often from privileged backgrounds themselves, need to be made aware that educational inequalities are not the only barrier to the success of working-class children.