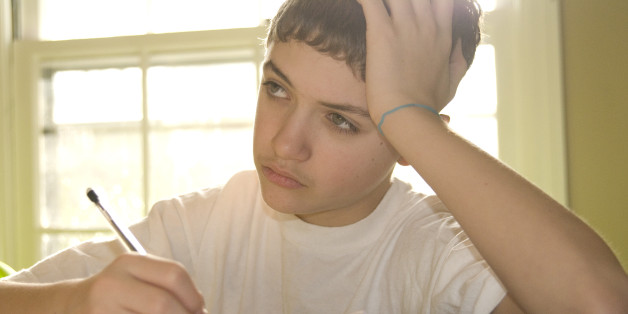 KRITINA LEE KNIEF via Getty Images
Students are being left to educate their own career advisors about apprenticeships and are being handed detentions if they don't attend UCAS tutorials - even if they don't want to go to university, it has emerged.
On Tuesday, around 100 students voiced their anger about the dire state of careers advice and raised their concerns about how university is still touted as the superior education route at a debate for National Apprenticeships Week.
SEE ALSO: Why You Should Consider An Apprenticeship Just As Seriously As University
Despite schools being legally required to provide impartial and diverse career advice, some are even refusing to host talks on apprenticeships, in case their brightest students pursue that path instead of going to university.
"Apprenticeships are outstanding, they give young people a choice but schools just aren't pushing them. I didn't get encourage to do an apprenticeship, I had to find out by myself." - Young apprentice
A spokeswoman from Fujitsu, which takes on apprenticeships, said they planned to go into as many schools as possible to raise awareness about apprentice opportunities for young people, but had faced rejection on numerous occasions.
"It's not just one school either, we're being told by schools they don't want us telling their pupils about apprenticeships," she added.
Many students hear about apprenticeships purely by accident, or from friends and relatives who have been apprentices, as schools are failing to inform them about the options.
"We got a detention if we didn't go to our UCAS writing tutorials, which were held every Tuesday. I only got out of it because I told my head I didn't want to go to university. They brought in a careers advisor to help me, but I had to educate her about apprenticeships. She didn't even know what they were." - Young apprentice
Research by Barclays' LifeSkills revealed a staggering 93% of young people say they are not getting the vital careers advice they need to find a job or make life-changing decisions about their future.
Only a quarter of 14 to 25-year-olds had received information on apprenticeships, while a mere 17% were told what vocational qualifications might be available to them. In contrast, 62% were given information on A-levels and even more (65%) on going to university.
Jack, a second year finance apprentice at BT, told the debate at London County Hall: "We have a generation of teachers who have been taught to push people to go to university. They should be trained to encourage other routes. There was a stigma about apprenticeships at my school and teachers need to be re-educated."
As schools are ranked in many league tables on how many pupils they send to university, particularly Oxbridge, it is unsurprising many are unwilling to offer their pupils apprenticeships as an alternative route through education.
And, as Jack put it: "Schools are graded and rewarded for the number of students they get into university, why aren't they graded on how many students they get into apprenticeships?"
"When I was at school, I thought apprenticeships were making coffee and running errands. There are no careers advisors anywhere, apart from jobs centres or the odd school. It's just not fair." - Young apprentice
Apprenticeships minister Matthew Hancock acknowledged there was an issue with the focus on sending young people to university saying it was a "cultural aspect".
"There is this drive and target for people to go to university and it's been around for a long time. Our government shouldn't have a target for one or the other, but instead we should have high quality options for both sides.
"I have a vision where it is the norm to have the choice whether to go to university or into an apprenticeship.
"We do need to get schools to open up but the best people to inform pupils about the opportunities are apprentices themselves, not me."
"I finished my apprenticeship last Sept. Before I started, I didn't know anything about them as my school, college, and careers fairs didn't advertise it. I ended up on it by accident. Without my apprenticeship, I wouldn't have a job right now. Schools don't want their students going straight into an apprenticeship, and not uni, because schools don't get the credit for that pupil. But we're not competition, we're just trying to give students another plan." - Young apprentice
Progress is being made however; 1.5m applied for apprenticeships last year, while the government is introducing a system similar to UCAS for 16-year-olds so they can apply for apprenticeships, further education or school.
Would you like to blog about your apprenticeship experience? Or do you have views you'd like to air on HuffPost UK? Drop us an email: ukstudenteds@huffingtonpost.com