The trial of Paralympian Oscar Pistorius, accused of murdering his girlfriend Reeva Steenkamp, was halted on Tuesday morning because of concerns an anonymous witness may have been shown on a TV broadcast.
On the second day of the trial of the double-amputee in Pretoria, Judge Thokozile Masipa briefly adjourned arguments because of concerns a photograph of a witness's face may have been shown on a local television station as questioning began on the second day of the trial.
On Monday, Michelle Burger, who lived on the neighbouring estate to the Silverwoods Estate in Pretoria where Pistorius lived, described hearing a woman's "bloodcurdling screams" followed by four gunshots on the night of Steenkamp's death.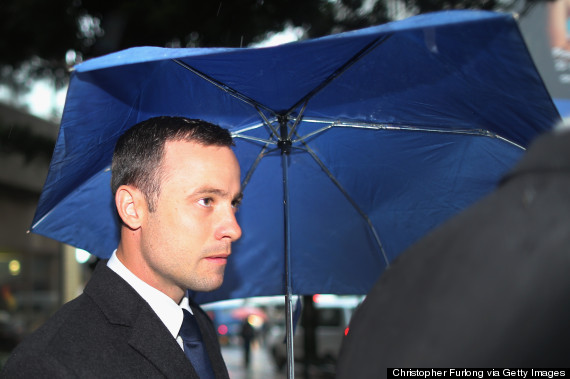 Oscar Pistorius makes his way to North Gauteng High Court for the second day of his trial
Some witness testimony is forbidden from TV broadcasts, although audio of the entire trial is being broadcast.
Pistorius has pleaded not guilty to the murder of his model girlfriend on Valentines' Day last year. He shot Steenkamp dead at his home but claims he thought she was an intruder. The prosecution will argue it was pre-meditated murder.
Media swarmed the steps of North Gauteng High Court for the opening day of trial of Pistorius, which is expected to hear from more than 100 witnesses, including neighbours who claim to have heard screams from his house that night, as well as ex-girlfriends of the athlete.
Prosecutors allege the Paralympian shot Steenkamp four times through the locked bathroom door at his home in Pretoria in the early hours of February 14, 2013.
The mandatory sentence for someone convicted of premeditated murder in South Africa is life with a minimum of 25 years in prison, meaning if Pistorius is found guilty, he will be over 50 when he leaves prison.