That Stephen Hawking eh? You can't do a thing without him trying to hog the limelight.
The Brief History of Time author recently gatecrashed a stag party of ten men dressed as Bananaman in his hometown of Cambridge.
Groom-to-be Chris Hallam had been out celebrating with his friends when they came across Professor Hawking and his son as they exited a car.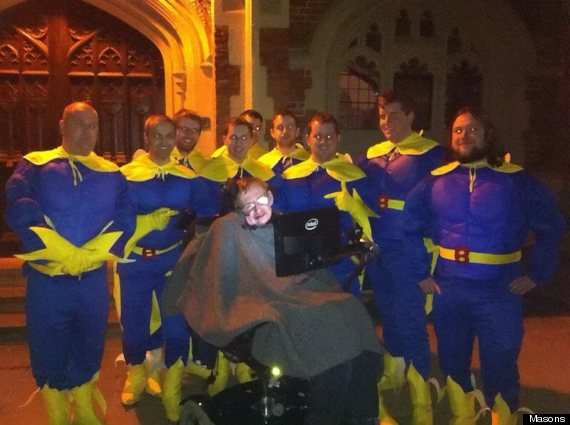 Professor Stephen Hawking and nine Bananamen
The 71-year-old cosmologist agreed to pose for a souvenir photo with the group and at one point even looked as if he might join the party.
Hallam, 29, said: "We only came across him because we were lost. We were just looking for a bar and spotted him getting out of his car.
"His son was with him and asking him 'Should we ditch the meal and go out with these boys?'
"They could have just told us to carry on but they were all brilliant. It's been mad. People just keep saying 'I can't believe it, is it really him?"
Prof Hawking was diagnosed with motor neurone disease (MND), a disabling and incurable condition aged 21 and told that he had just two or three years to live.
Following a bout of pneumonia in 1985, he was placed on a life support machine which his first wife, Jane Hawking, had the option to switch off.
Recovering from the disease, Prof Hawking went on to complete his popular science best-seller A Brief History of Time, which sold more than 10 million copies worldwide.
Only 5% of people with the kind of MND he has - called amyotrophic lateral sclerosis (ALS) or Lou Gehrig's disease - survive for more than a decade after diagnosis.
You can't keep a good man down.