Sailors on board a Ukrainian ship in the harbour of Sevastopol have lined the side of their vessel with mattresses and blankets as a makeshift barrier to help repel any potential attack by Russian forces.
People working on the Ukrainian navy corvette Ternopil lined the ship with bedding as ships from the Russian Black Sea fleet stand guard at the entrance of the Ukrainian naval base in the city.
On land the pro-Russian soldiers have occupied key sites in the autonomous region of Crimea, with with troops taking control of the Belbek air base, firing warning shots in the air as 300 Ukrainian soldiers who had previously manned the airbase returned.
According to Reuters, observers from the Organization for Security and Cooperation in Europe (OSCE) will be travelling to Crimea at the invitation of Ukraine's interim government in an attempt to ease tensions in the standoff. "An OSCE mission has arrived in Kiev which will go to the Crimean peninsula to monitor the situation," said Andriy Paruby, Ukraine's national security chief.
The US is reported to be sending two monitors on the weeklong visit, though it remains unclear whether Russian forces would allow the observers to access the region. In the UK, foreign secretary William Hague lambasted Moscow for trying to justify military intervention in Ukraine, calling Russia's excuses "baseless".
In the Kremlin, Vladimir Putin told a press conference he would use "all measures" to protect the Russian speaking population of Ukraine in Crimea, while denouncing the removal of ousted president Viktor Yanukovych an "unconstitutional coup d'état".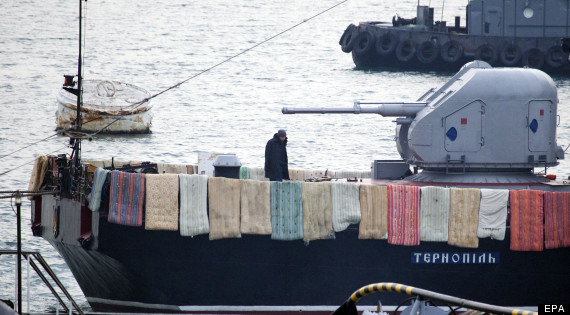 Ukrainian sailors placing mattresses on their ship in Sevastopol harbour
Earlier, Putin had ordered troops on military exercises near to the Russian border to return to base, a move he told reporters showed the Kremlin was not looking to take military action in Eastern Ukraine. Putin also warned that any trade sanction on Russia was be just as harmful to other nations.
However in a statement to the Commons on Tuesday, Hague said Putin's action in Crimea posed "a threat to hard-won peace and security in Europe", while dismissing any justification for the intervention. Speaking to MPs, Hague said: "The suggestion that a president who has fled his country then has any authority whatsoever to invite the forces of a neighbouring country into that country is baseless.
"Russia has also argued that Russian-speaking minorities in the Ukraine are in danger, but no evidence of that threat has been presented." Despite Monday's leaked document that ruled out trade sanctions against Russia, the foreign secretary said that all of Britain's options "remained open".
More from the Press Association:
Putin insisted that the soldiers in uniforms without insignia who seized key locations in Crimea over the weekend were not Russian troops but "local self-defence forces". Military uniforms of all kinds could be bought in the shops, he said, adding that Russia's actions were "a humanitarian mission".
"We don't want to enslave anybody, we don't want to dictate anything to anybody, but we cannot stand aside when somebody will be annihilating and use torture. We don't want this outcome," said Putin.
Russia remained ready to welcome leaders of the G8 nations - including David Cameron - to the planned Sochi summit in June, he said. But as speculation raged about a possible boycott, he added: "If they don't want to come, fair enough."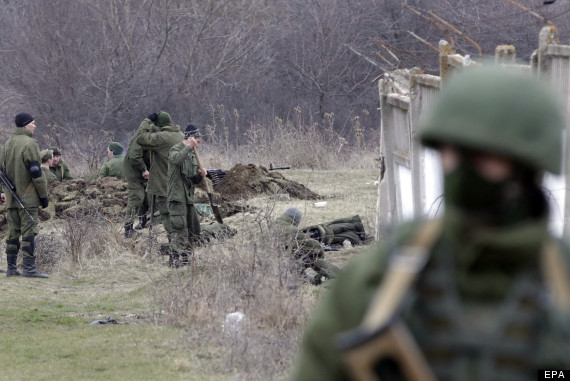 Armed men shovel earth outside territory of a Ukrainian military unit in Perevalnoye
Putin said: "Ukraine is not only our closest neighbour but it is our fraternal republic, our fraternal neighbour and our armed forces are brothers-in-arms, friends. They know each other personally and I am sure that Ukrainian military and Russian military are not going to be on different sides of the barricades, they are going to be on the same side of the barricade."
Events in Crimea had demonstrated "unity" as Ukrainian troops were asked to "comply with the will of people who live there", he said. Putin said he could understand the anger of ordinary Ukrainians at corruption among their ruling elite, which he said was "at such a level that we didn't even dream of in Russia", but added that it was a "mistake" for them to oust the president unconstitutionally.
"As to whether this leadership in Ukraine is legitimate - no, they are not, and I can't say anything about the legitimate status of the so-called acting president in Ukraine," said Mr Putin. "Of course he doesn't have any power in the Ukraine. In legal terms, there is only one president in Ukraine. It is Yanukovych."
Members of the Nato defence alliance met in Brussels after Ukraine's neighbour Poland said it felt threatened by Moscow's moves in the region. Markets fell sharply and oil prices rose yesterday in response to the escalating crisis, raising fears that it could harm fragile economic recoveries with Germany among countries dependent on Russian gas supplies.
But share prices rallied a little in the wake of Putin standing down his military forces, with the FTSE 100 up 1% in early trading.
Answering questions following a speech in Coventry, David Cameron said: "On the issue of Ukraine and our attitude towards Russia, we should be very clear about this; Britain is working with our allies and partners, with America, with France and Germany, the leaders of which I spoke to yesterday through the European Union to make sure we take a very clear and strong approach in two vital respects.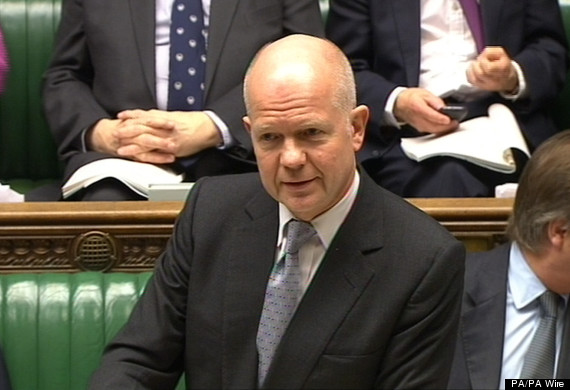 Hague said there was no justification for Russian military action
"First of all, to say to the people of Ukraine we back your ability to choose your own future. You should be able to choose the path you take and you'll have the support of countries like Britain, France and Germany, the EU and America in doing so and we'll obviously be working through the IMF (International Monetary Fund) and other organisations to give Ukraine and the people of Ukraine the chance to choose that future.
"We'll also be sending a very clear message, and are sending a very clear message, to the Government in Russia that what has happened is unacceptable. That failing to respect the territorial integrity and sovereignty of Ukraine: that is not an acceptable way to behave and we have said very clearly there will be costs and consequences diplomatically, politically and economically, from the decisions that have been taken.
"And we need to send an even more clear message that if there are further incursions into the Ukraine territorial integrity and sovereignty, then further steps would have to be taken. That is absolutely clear."
Cameron said it was "unfortunate and regrettable" that a document being carried by an official into yesterday's National Security Council meeting had been photographed. He said: "With respect, the broadcasters should focus on what the Government says and what the Government does rather than anything that is contained on a piece of paper held by someone standing in Downing Street, unfortunate and regrettable though that incident is."
TOP STORIES TODAY