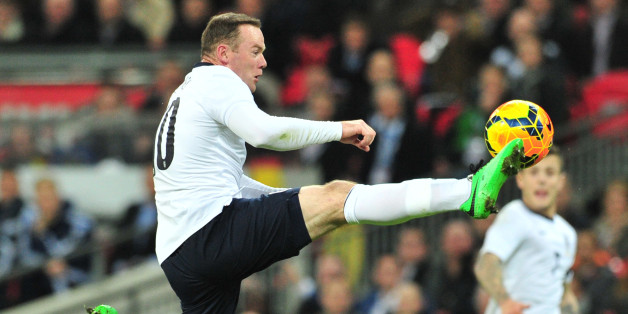 GLYN KIRK via Getty Images
Under a manager renowned for his conservative nature, it is perhaps a surprise that England's performance tonight against Denmark suffered from a lack of shape, as the team drifted between a 4-3-3, a 4-4-1-1, a 4-3-2-1 and a 4-4-2 without any real cohesion.
Daniel Sturridge huffed and puffed throughout, but rarely found himself in the right positions, banished to the wing for the majority of the first half and cutting an isolated figure for much of the second before settling the game during a rare appearance in the six-yard box. Sturridge remains England's only outstanding option for the number 9 position in Brazil, but his game is far more suited to playing on the shoulder of the last defender in a pacy, counter attacking side, rather than needing to cover at right-back when Glen Johnson bursts forward.
Although the majority of England's best chances came from sharp bursts down the channels and low crosses in to the box, too often their wide players were far too deep. Despite his surprising Man of the Match award, Raheem Sterling hasn't yet proved that he can break England's run of pacy wingers with no end product, and the poor form of Andros Townsend at club level may leave the door open for Alex Oxlade Chamberlain to stake a late claim.
Such pressure is on England's wide players due to the lack of creativity in the middle of the park. With a central midfield three of Gerrard, Henderson and Wilshere, England boasted two sitters and a runner, but lacked an out and out playmaker. For England to flourish in this area, Hodgson needs to take the brakes off, but he is hamstrung by the understandable need to accommodate Wayne Rooney.
A 4-3-2-1 formation removes Wayne Rooney from his preferred central position behind the striker, as does a 4-3-3, while the 4-4-1-1 that suits Rooney leaves the side bereft of runners from midfield. With eyes set firmly on the future, tonight would have been the ideal time to blood either Adam Lallana or Ross Barkley from the start to provide an injection of drive and creativity into the central three.
In a roving position, Wayne Rooney had a disappointing game but never shied away from responsibility, often tiring of England's slow sideways passing and taking shots from distance. He failed to hit the target tonight, but with England struggling to break down opponents, a moment of magic from Rooney could be their best hope should he finally fulfill his potential at a World Cup.
With the vast majority of England's starting eleven safely on the plane already, Hodgson finds himself in a difficult situation and must decide whether to use these games to pin down his strongest eleven or to give fringe players a chance to stake their claim. Tonight he tried to do both and ended up doing neither.
England edged over the line tonight, and Hodgson's side remains a work in progress through no fault of his own, but there remains a pressing need to find the right blend of players and a cohesive formation before the first match of the World Cup against Italy on June 14th.