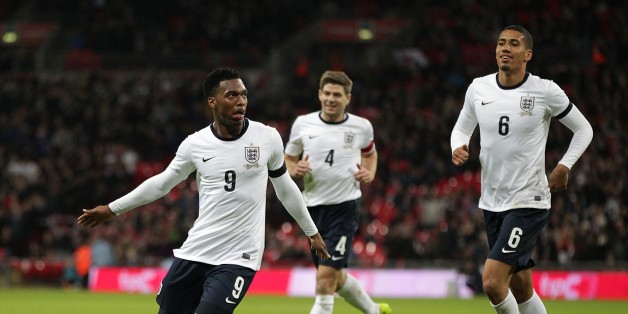 Nick Potts/PA Wire
Daniel Sturridge spared Roy Hodgson the ignominy of a third successive goalless game with an 82nd minute England winner against Denmark.
Here are five talking points from the pre-World Cup friendly...
ENGLAND'S STERILE DOMINATION
Spain's Xabi Alonso summarised it best: "Clever possession is essential. Having the ball for having the ball has no sense." Despite starting one of the most adventurous front sixes of his reign, Roy Hodgson's England were content with playing a possession game against a side that hasn't even qualified for the World Cup. Raheem Sterling was bright but lacked composure, Jordan Henderson was restricted and, having made no headway in the first quarter, Daniel Sturridge was switched to the right wing.
Wayne Rooney took out his frustration on Row Z, Steven Gerrard complained about the lethargy, There was no sense of verve about England's football and, with 101 days until their first World Cup game, too many players looked too comfortable, which raises the question as to why Hodgson didn't field more fringe players.
ANOTHER MISSED OPPORTUNITY
There was little sense in playing Steven Gerrard or Wayne Rooney when both players' tickets to travel to Brazil are already booked. This was a chance to give Jay Rodriguez a second chance following his inauspicious debut against Chile in November, and Adam Lallana, who should go the finals, another start. Ross Barkley, too, was wasted in another friendly and Alex Oxlade-Chamberlain received just 13 minutes in his favoured central role.
England play three friendlies over an eight-day period at the end of the season, which will provide a more suitable opportunity for Hodgson to decide who will start the first World Cup group game against Italy in Manaus. There was no danger of the Danes inflicting a morale-crushing defeat and some might have wished they stayed at home.
STURRIDGE'S STRUGGLES CONTINUE DESPITE GOAL
Wayne Rooney is not as gifted as Luis Suárez, yet that should not excuse another unconvincing Daniel Sturridge display for England, despite his winning goal.
Understandably eager to cement his starting berth, he was guilty of trying too hard again; a fate which has befallen a number of talented players when they have earned their promotion to the national side. With the team tailored to resemble Brendan Rodgers' set-up, Hodgson - and Sturridge - should have shown more patience and it does not reflect well on the England coach that he reacted so panicky.
COLE V SHAW
It was one of Ashley Cole's more forgettable England appearances as he sauntered through 45 untroubled minutes before being withdrawn at the interval. This was always destined to be too mundane a contest to compare the merits of Cole and his heir, Luke Shaw, unless either of them made a headline-grabbing goalscoring contribution. Shaw is yet to register a professional strike and Cole has not scored in 107 internationals.
Hodgson's cautiousness makes Cole the favourite to travel to Brazil ahead of the prodigious Shaw, whose debut came amid a flurry of substitutions. Irrespective of Cole's unfavourable situation at Chelsea, should Leighton Baines suffer an injury it seems incongruous Hodgson would entrust the raw Shaw with left-back duties ahead of Cole, England's most consistent performer over the last 13 years.
ENGLAND FANS EMBARRASS THEMSELVES AGAIN
No, it wasn't the deplorable outing of the Mexican wave, but the puerile booing of Tom Cleverley. The Manchester United midfielder is the latest England international to receive such treatment, following the likes of Ashley Cole and Frank Lampard, only he didn't even play.
The booing was hardly en masse when his name was announced prior to kick-off, but it is peculiar that some are that outraged by Cleverley's call-up they must vent their feelings at a drab friendly they have actually paid to attend.