A Paddy Power advert which has been slammed by Labour shadow ministers and domestic violence campaigners for encouraging bets on whether Oscar Pistorius would "walk", is to be investigated by the advertising watchdog.
The Paralympian is on trial in Pretoria, accused of the murder of his girlfriend Reeva Steenkamp. He alleges that he shot her accidentally, mistaking her for an intruder.
The ASA said it was "fast-tracking a formal investigation" following 46 complaints about the ad which offers "money back if he walks", or is found not guilty of killing Steenkamp.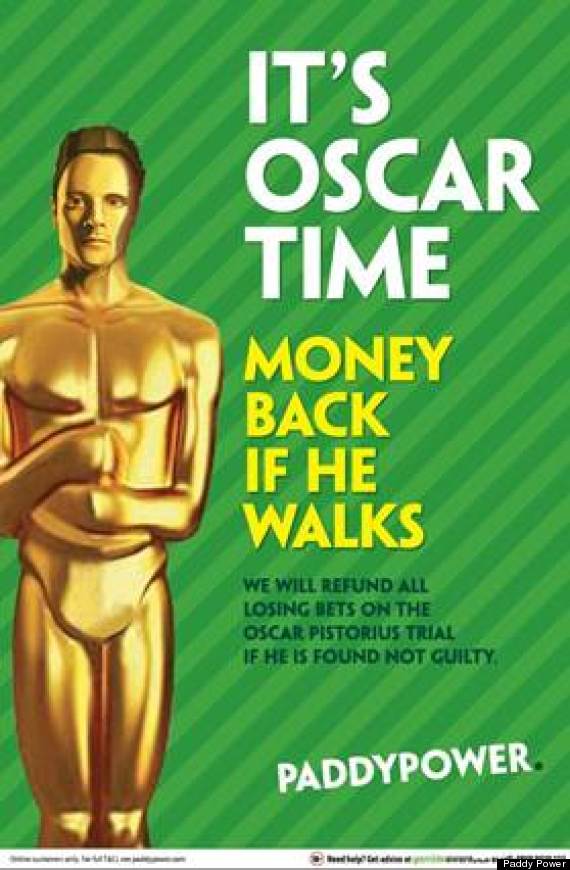 The controversial advert has sparked a petition and complaints to the ASA
The advert featured Pistorius, a double amputee Olympic racer, mocked up as an Academy Award statuette, with the slogan: "It's Oscar Time. Money Back If He Walks. We will refund all losing bets on the Oscar Pistorius trial if he is found not guilty."
The advert has been criticised by senior Labour MPs, including shadow Home Secretary Yvette Cooper, shadow minister for International Development Jim Murphy, and ex-deputy chair of the Labour Party Tom Watson.
Reeva Steenkamp was killed. A woman's death is not sport, @paddypower. Sick & shameful to run bets on trial. Urge you to remove & apologise

— Yvette Cooper (@YvetteCooperMP) March 3, 2014
Very pleased to see that @GloriaDePieroMP has officially written to @paddypower about their Pistorious advert: http://t.co/H4Dm149RyU

— tom_watson (@tom_watson) March 4, 2014
Paddy Power running a book on a gruesome murder trial is cheap and nasty. They should see sense and stop.

March 3, 2014
Gloria De Piero MP, Labour's shadow Women and Equalities Minister has written to Patrick Kennedy, chief executive of Paddy Power, calling on him to rethink their policy.
"Two women a week in the UK are killed by their current or ex-partner. Rather than making sport out of the death of a young woman, I would urge you to consider the impact offering odds will have on a grieving family," she wrote.
"I ask that you rethink your policy of offering odds on the verdict of this trial and back the call from women across the country to donate the takings so far to domestic violence charities."
A Change.org petition demanding the ad be withdrawn has more than 120,000 supporters.
Holly Dustin, director of End Violence Against Women, told HuffPost UK the betting company was making light of "the violent death of a young woman".
"This trivialises and minimises one of the most vile human rights abuses that is taking place not just in South Africa but across the world, and really is rubbing salt into the wound by offering 'money back if he walks'. Paddy Power should withdraw the ad, apologise and make a substantial donation to a women's anti- violence charity."
When questioned over the weekend on the advert, the company was defiant. "We are offering betting on the outcome of a trial – not a murder," Paddy Power told the Huffington Post UK.
"Given the high profile nature of the case and intense media interest, people will naturally have an opinion on the outcome. We are our customers the chance to put their money where their mouth is – much like any opinion poll.
"The world is interested in and speculating on the outcome of the Pistorius trial and our betting is a reflection of that. It's an indicator of what way the public think the trial will go, much like an opinion poll. Social media is where this trial will be debated so it's no surprise that there has been a big response to our betting."