This shocking video of a mutilated rhino showcases the brutal damage poachers inflict.
Despite ongoing efforts to curb poaching and save the endangered species, this horrific video shows a rhino stumbling a road in South Africa's Kruger National Park having had it's horn savagely hacked off.
The poor animal was spotted by visitors to Kruger National Park on February 28, but wildlife officials were unable to locate it until March 4, according to a press release from South African National Parks.
The animal was found alive, but rangers discovered that a bullet was lodged in the rhino's brain and it had to be put down later that day.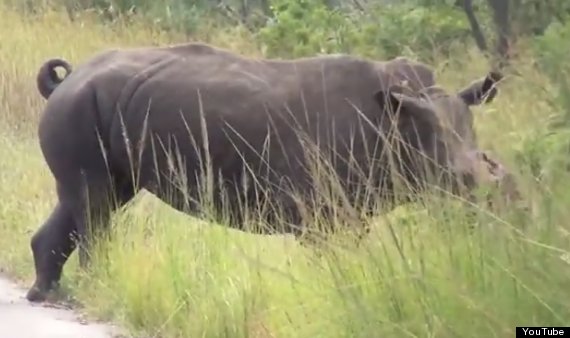 Unbelievable cruelty...
"We will continue to work hard in the fight against the overwhelming scourge that is currently targeting the KNP," a release announcing the rhino's fate said. "To us one rhino killed is one too many."
The market for rhino horns and elephant tusks is thriving and prices are only rising – more than 1,000 rhinos were slaughtered for their horns last year in South Africa alone.
False claims that rhino horn can cure everything from cancer to diabetes have led to a surge in demand in some Asian markets where a single kilogram is worth more than twice its weight in gold.
Ground horn has also become a popular party drug for the rich, but consuming it is actually identical to chewing on your fingernails.