Britain has sold more than £86m of sniper rifles, ammunition, drones and laser technology to Russia in just over a year, it can be revealed.
There are 271 arms export licences given for arms sales, air vehicles, military helicopters, and spy equipment to Russia that remain active, despite the ongoing crisis in Ukraine. Between 2008-2013 UK licensed over £406 million in military and dual use licences to Russia, according to official Whitehall documents.
The ongoing licences would appear to be a breach of the government's own rules, with Foreign Secretary William Hague telling the House of Commons' Committees on Arms Export Controls last year that "the British Government will not issue licences where we judge there is a clear risk the proposed export might provoke or prolong regional or internal conflicts, or which might be used to facilitate internal repression."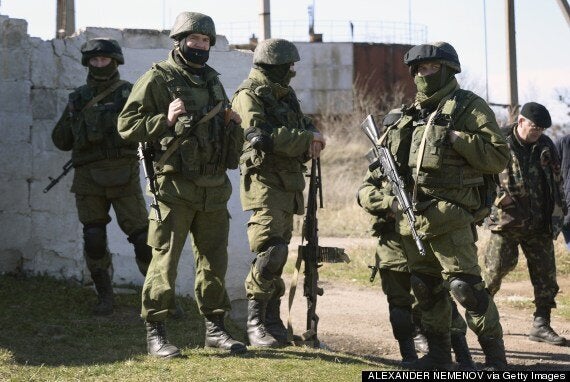 Armed men in military fatigues, believed to be Russian soldiers, seen near Simferopol, Crimea
Andrew Smith, a spokesperson for Campaign Against Arms Trade, said: "This is another example of the shortcomings of a UK foreign policy that all too often promotes the profits of arms companies ahead of human rights.
"The UK should be using its political influence to promote peace, not arms sales."
"The UK government needs to urgently explain it's arms sales to Russia and demonstrate what steps it has taken to ensure no UK supplied equipment is being used in the current Crimea crisis," Oliver Sprague, Amnesty International's director of military security and police told HuffPost UK.
"Without urgent explanation of who these arms were destined for and how they were going to be used, these figures seem to suggest we have been supplying exactly the kind of weaponry that risks being used to escalate the current military crisis in the region, with all the likely catastrophic consequences that such armed violence will inevitably bring."
The chairman of the government's own committee, Sir John Stanley, has previously said questions needed to be ask whether licences to China, Sri Lanka, Iran and, crucially, Russia, had been sufficiently scrutinised.
Deals with Russia account for £3m worth of ammunition, £86,000 of drones, and £22m on intelligence equipment, used to encrypt sensitive data.
The UK also has £24m worth of UK licences for military equipment to the Ukraine issued between 2008 and 2013, £4m in the last year.
Combined, EU nations licensed almost €200 million in military sales to Russia and €37 million to Ukraine.
"Is it not incumbent on us—the European Union as a whole—to stand up, united and calm but extremely robust, lest Crimea become a 21st-century Abyssinia or Sudetenland?" asked Labour shadow minister Chris Bryant, referring to the Nazi invasions of both regions prior to World War Two.
Earlier this week a secret document, photographed as a an official carried it into a meeting at Downing Street, said "the UK should not support for now trade sanctions or close London's financial centre to Russians".
Yesterday, Hague said that the document was not the official position, and added that "no one official document carried into a meeting is necessarily representative of the decisions that will be made by Her Majesty's Government or by Ministers," and that "no measure proposed by any of our allies has so far been blocked by the United Kingdom."
Asked whether the government could consider freezing assets of wealthy Russian individuals banking in London, Hague said that if the government "were to apply sanctions to individuals, we must be very sure of our case legally and have the evidence to sustain cases through court proceedings."
Related