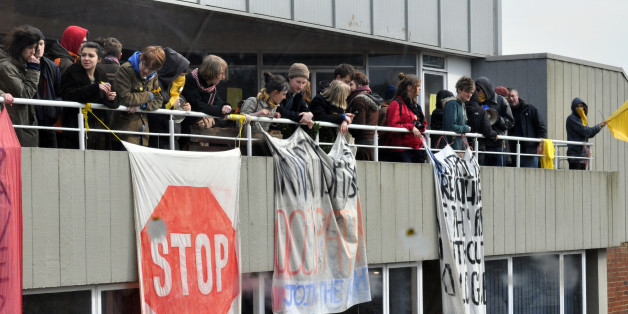 Morten Watkins/Flickr
A university has been slammed as a "disgrace" for spending more than £100,000 in legal fees after taking disciplinary action against its students, the Huffington Post UK can reveal.
The University of Sussex splurged the money on legal costs in relation to disciplinary hearings for five of its students between February 2013 and January 2014.
The NUS has condemned the spending as a "ludicrous" and branded it "a disgrace that Sussex University chose to criminalise its students at all".
Sussex has been engaged in continued action against five students who were involved in protests against privatisation at the university last year.
The university also spent "around £200,000" on contracted security guards between February and October 2013.
The figures were revealed to HuffPost UK in response to a Freedom of Information request by student Michael Segalov, who is currently facing discipline by the university after his involvement in the protests.
Sussex spent £81,812 on legal costs between 7 February and 28 October 2013 relating to the occupation of university building Bramber House and surrounding protests.
This was followed by estimated spending of £18,154 plus VAT in legal costs in relation to disciplinary hearings held on 17 January 2014 which collapsed due to claims of bias.
The five students are receiving their legal services free of charge as a pro bono service from their lawyers.
A spokesperson for the University of Sussex told HuffPost UK: "The university makes no comments on individual discipline cases, but operates on the principle of only engaging its own legal support as a response to cases where students have chosen to be represented by lawyers.
"With regard to legal costs accrued due to the student occupations of 2013: The violence that accompanied the occupation was deplorable and the university was compelled to act swiftly, decisively and in accordance with the law to minimise the disruption caused and to prevent further violence and destructive behaviour. The university was forced to incur legal costs by an illegal occupation that sought to disrupt the running of the university."
The NUS has condemned the University of Sussex for the legal costs.
Rachel Wenstone, NUS vice president (higher education), said: "It is a disgrace that Sussex University chose to criminalise its students at all, let alone waste such a ludicrous amount of money doing so.
"This is the same university that chose to outsource considerable parts of its student facing services, and has now chosen to spend considerable amounts of money punishing their student body rather than investing in their education.
"Peaceful protest and occupation is part of the history of the student movement and one we are very proud of. They are legitimate tactics, enshrined in our right to protest, and are available to students for when there is no other way to get their voices heard.
"Vice chancellors should be held to account when their decisions are questionable. It is alarming to see universities react to this action with these disproportionate and draconian measures."
Professors had sent an open letter to university management asking them to drop the proceedings before the hearings of January 2014.
The letter, signed by 42 members of staff, said: "In the interests of the external image of the university, good relations at the university and fairness we ask you to end the disciplinary procedure against the five students and instead start a process of dialogue with the protesters."