An Australian senator has launched a scorching attack on the Prime Minister Tony Abbott, calling his government "heartless and racist", "thoughtless" and "kinda revolting".
Greens Senator Scott Ludlam roundly rollicked the coalition government's record since last year, with a series of expertly timed one-liners.
In a monotone voice dripping with menace, Ludlam coldly condemned policies on the environment, school funding to the shark cull, to an almost empty chamber.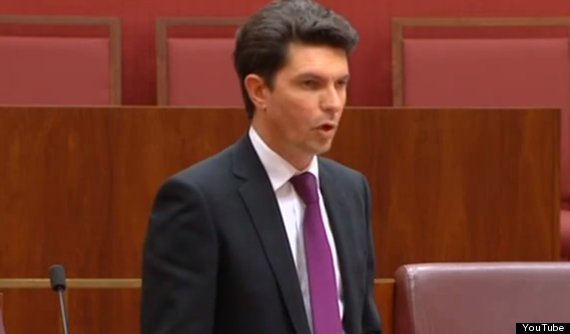 Scott Ludlam used his last speech before a crucial by-election to attack Tony Abbott
Inviting him to visit his native Western Australia on the back of a crucial by-election, Ludlam quipped: "You are welcome here.. but we invite you to leave your incredibly boring three-word campaign slogans at home.
People's lives were hard enough, Ludlam said, but Abbott was "going out of his way to make things worse". He called the coalition a "benighted attempt at a government", which he said were a "temporary phenomena".
He dubbed it "awkward and kinda revolting" that Abbott had taken advice on minimum wage from "oligarchs on the other side of the world."
"Just as the reign of the dinosaurs was cut short to their great surprise, this government may just be the a thin, greasy layer in the core sample of future political scientists."
"Your thoughtless cancellation of half a billion dollars of Commonwealth funding for the Perth light-rail project has been noted," he said.
"Your blank cheque for Colin Barnett's bloody and unnecessary shark cull has been noted. Your attack on Medicare, on schools funding, on tertiary education; noted.
"The fact that your only proposal for environmental reforms thus far is to leave Minister Greg Hunt playing Solitaire for the next three years while you outsource his responsibilities to the same Premiere who presides over the shark cull? That's been noted too."
And Abbott has made false assumption about Western Australia, the Greens senator said.
"Western Australians are a generous and welcoming lot, but if you arrive and start talking proudly about your attempts to bankrupt the renewable energy sector... if you show up waving your homophobia in people's faces and start boasting about your ever-more insidious attacks on the trade union movement and all working people, you can expect a very different welcome."
He concluded: "Prime Minister, you are welcome to take your heartless, racist exploitation of people's fears and ram it as far from Western Australia as your taxpayer-funded travel entitlements can take you.
"We want our country back. Through chance, misadventure and, somewhere, a couple of boxes of misplaced ballot papers, we've been given the opportunity to take it back: just one seat, next April 5, and a whole lot more in 2016.
"Game on, Prime Minister. See you out West."