EU leaders, including David Cameron, are to begin talks in Brussels aimed at putting further pressure on Vladimir Putin to send Russian troops back to their bases in Crimea,.
The hastily convened summit comes is the latest tactic of European leaders to show strong condemnation of Russia's action in Ukraine, which have so far fallen on deaf ears.
The EU has now frozen the assets of 18 people suspected of "misappropriating" Ukrainian state funds - including ousted president Viktor Yanukovych and his closest allies.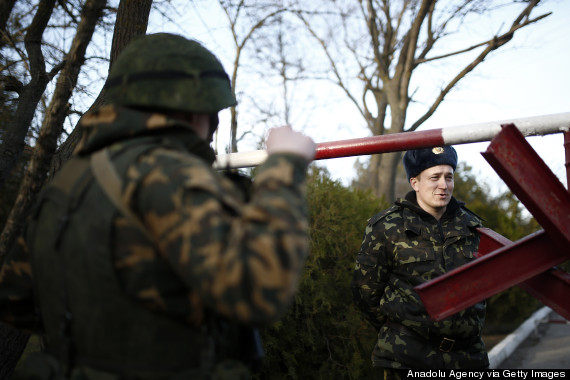 An Ukrainian soldier talks to a Russian army force at the entrance of Ukrainian military base, as leaders meet in Brussels to discuss the crisis in Crimea
Meanwhile the EU proposed an aid package for Ukraine worth up to £9 billion to help "stabilise its economic and financial situation", as well as the asset sanction.
Those hit by the asset freeze - which came into force today - include a former interior minister, justice minister, the prosecutor general, the head of the security services and Yanukovych's son.
The sanctions also target former Ukrainian prime minister Mykola Azarov and his son.
In talks between US President Barack Obama and Cameron last night, the two leaders agreed the US and EU should be "united in condemnation" of Russia's actions.
"They reiterated their grave concern over Russia's clear violation of Ukrainian sovereignty and territorial integrity and agreed that the international community should continue to work together to de-escalate the situation and to deter any further Russian action," a Downing Street spokesman said.
"While they noted that there had not been any further serious escalations by the Russians in the last 48 hours, both agreed that the current circumstances are unacceptable - the Russian authorities had yet to withdraw their troops back to bases, still refused to recognise the interim Government in Kiev and the situation on the ground remained extremely tense.
"They agreed that the EU and United States should stand united in their condemnation of Russia's actions and make clear to President Putin that such actions would face significant consequences."
Ukraine's interim prime minister Asenyi Yatsenyuk said in an interview with the Associated Press that he still feared Russia is planning to invade eastern Ukraine as well. "A number of military forces of the Russian Federation are deployed in Crimea," he said.
"This is Ukrainian territory and Russia wants to grab control over Crimea. But I will underline again, we will do our best in order to regain control over Ukrainian territory. The Russian military is to be back in the barracks."
We cannot figure out the reason why Russian boots are on Ukrainian ground. And it's crystal clear that it was ordered personally by President Putin."
Pro-Moscow activists have recaptured the administrative headquarters of the eastern city of Donetsk, Reuters reporter, and flew the Russian flag from its roof on Wednesday, mere hours after Ukrainian supporters managed to fly their own blue and yellow standard there for the first time since Saturday.
US secretary of state John Kerry has warned Russian counterpart Sergey Lavrov that Moscow had made the "wrong choice" but could now take steps to de-escalate the situation.
Following talks in Paris, Kerry said: "We renew our call for Russia to speak directly to the government of Ukraine, to send troops back to bases and to welcome international observers and human rights monitors."
In a hint that there could be progress he said the meeting was "very constructive, without promising something that is not defined yet, without raising hopes that are inappropriate to raise" and added "I'd rather be where we are today than where we were yesterday".