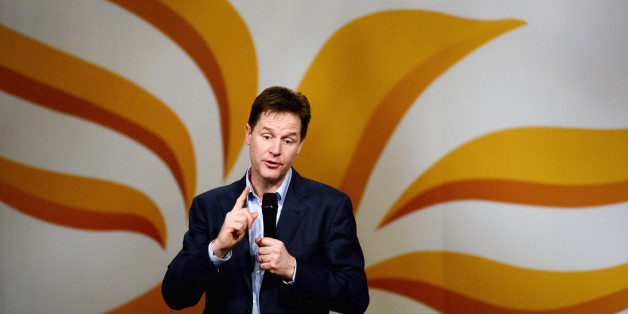 Jeff J Mitchell via Getty Images
Here are the five things you need to know on Sunday 9 March 2014...
1) UKIP'S 'BACKWARDS LOOKING BILE'
Nick Clegg isn't pulling any punches ahead of his TV and radio debates with Ukip leader Nigel Farage. From the Independent on Sunday:
"Nick Clegg will launch a thinly veiled attack on Ukip leader Nigel Farage today, warning that the 'bile' and 'anger' of nationalistic extremism is on the march across Europe. The deputy prime minister will tell the Liberal Democrat spring conference in York that 'an ungenerous, backwards looking politics has emerged in Britain'. The beer-loving Mr Farage has led Ukip out of obscurity and could even win May's European elections. Mr Clegg said: 'The politics of blame has found an acceptable face: it wears a big smile and looks like someone you could have a pint with down the pub'... According to some forecasts, the Lib Dems could lose all 12 of their MEPs in the European poll, but Mr Clegg vowed: 'Forget the lazy assumption that, in the court of public opinion, the Eurosceptics will automatically win want jobs... Because there are plenty of people out there who don't want anger. They don't want bile. They want jobs.'"
Ouch. Nick's happy to be nasty. Nigel, over to you...
It's not a good news day for Ukip, incidentally; the Sunday papers contain some pretty damaging stories. The Observer reports that a new book by academics Matthew Goodwin and Rob Ford has "revealed that Ukip considered forming a pact with the BNP five years ago, with two members of the party's national executive committee at the time in favour of the idea. In 2008 Nigel Farage acknowledged that the BNP had proposed a deal for the European elections the following year, but insisted it had been unanimously rejected... Now the new book - Revolt on the Right, the most definitive account yet of the Ukip movement - reveals that the BNP's proposal was canvassed among 17 members of the party's NEC. Two members supported the proposal."
Meanwhile, this Mail on Sunday headline pretty much says it all: "UKIP candidate forwarded racist e-mail ranting against the family of murdered Stephen Lawrence."
Oh dear.
2) MILITARY CONFLICT WITH RUSSIA? DON'T BE SILLY
Yesterday, US Secretary of State John Kerry told his Russian counterpart Sergei Lavrov that "continued military escalation" by the Russians in Ukraine would "close any available space for diplomacy". What's the alternative to diplomacy? Well, it ain't military action, that's for sure. Foreign Secretary William Hague, speaking on the Andrew Marr show on BBC1 this morning, readily admitted that "none of the [trade or financial] measures that we can propose remove Russian forces form the Crimea. Nobody is proposing a military conflict between the West and Russia..."
Indeed. A YouGov poll of UK voters for the Sunday Times shows, as YouGov's Anthony Wells blogs, "there is majority opposition to breaking off diplomatic relations with Russia (21% support, 55% oppose), giving military aid to Ukraine (15% support, 59% oppose) or deploying Western troops to Russia (11% support, 64% oppose)".
3) ED THE HAWK?
Labour leader Ed Miliband is on a visit to Afghanistan and, after the row over his opposition to military action against Syria, he is keen to remind voters he isn't a pacifist - from the BBC:
"Ed Miliband has said he would support British military intervention in future conflicts if it was 'in the national interest'. On a visit to Afghanistan, the Labour leader said maintaining strong armed forces was 'an absolute commitment'. But, he declined to rule out further military spending cuts, saying Labour would 'look at strategic needs'. He also promised legislation to outlaw discrimination and abuse of British troops at home. Mr Miliband met British military personnel at Camp Bastion, where they are training members of the Afghan National Army in security operations."
BECAUSE YOU'VE READ THIS FAR...
Watch my semi-serious, 60-second video round-up of the week's top political stories - from Russia's belligerence in Ukraine to the forthcoming Nick v Nigel debate. I even try doing some chin-ups... #mehdisminute
4) FREE TO VOTE ON ASSISTED DYING
Have we moved a step closer to controversially legalising assisted suicide? From the Sunday Telegraph:
"Conservative and Liberal Democrat MPs and peers – including Coalition ministers – will be given a free vote on a Bill that would enable doctors to help terminally ill patients to die, The Sunday Telegraph can disclose. The proposed legislation will come before Parliament in the next few months. On Saturday night, Norman Lamb, a Liberal Democrat and the minister responsible for care for elderly and disabled people, was among the first to say he would vote in favour."
5) DID SALMOND ACT ILLEGALLY?
Are you a Scot who lives outside of Scotland? Annoyed that you can't vote in the independence referendum in September? Well, help could be at hand - from the Sunday Times:
"Alex Salmond, Scotland's first minister, acted illegally by denying expatriate Scots a vote in the independence referendum, according to one of Britain's top barristers. Aidan O'Neill, a QC who is expert in EU law, said the decision had 'good prospects' of being overturned in a judicial review on the grounds that it violated Scottish expatriates' right to freedom of movement under European law. The formal advice was commissioned by James Wallace, a lawyer born and raised in Dumfries but now based in London. He is sending the legal opinion to Salmond and David Cameron today, demanding they enfranchise the estimated 1.15m Scottish expatriates in order to avoid court action that could delay the referendum due on September 18."
PUBLIC OPINION WATCH
From the Sun/YouGov poll:
Labour 39
Conservatives 32
Ukip 14
Lib Dems 10
That would give Labour a majority of 86.
900 WORDS OR MORE
Camilla Cavendish, writing in the Sunday Times, says: "The minister can't control immigration so he wants you to do it for him."
Andrew Rawnsley, writing in the Observer, says: "The staged battles of the coalition disguise their genuine conflicts."
Matthew D'Ancona, writing in the Sunday Telegraph, says: "As Tories stumble, Labour is quietly preparing for office."
Got something you want to share? Please send any stories/tips/quotes/pix/plugs/gossip to Mehdi Hasan (mehdi.hasan@huffingtonpost.com) or Ned Simons (ned.simons@huffingtonpost.com). You can also follow us on Twitter: @mehdirhasan, @nedsimons and @huffpostukpol