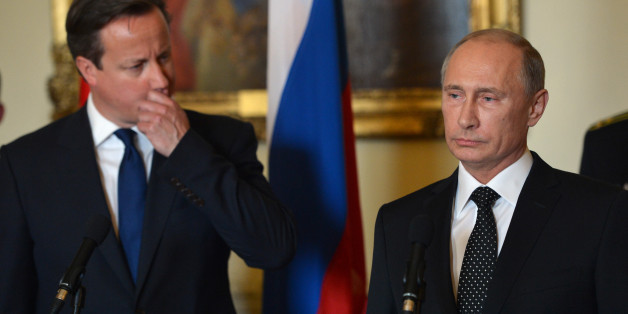 Anthony Devlin/PA Archive
Russia wants to find a peaceful resolution to the Crimea crisis, Vladimir Putin has told David Cameron in a telephone conversation, Downing Street said.
Mr Cameron called the Kremlin as world leaders joined a fresh round of efforts to persuade Moscow to pull back from its incursion into the Ukrainian territory.
Number 10 said the president "did want to find a diplomatic solution" and was ready to consider the setting up of a contact group to facilitate dialogue with the new government in Ukraine.
He will discuss the idea - a key demand of the US and Europe alongside the withdrawal of armed forces that have taken control of the province - with his foreign minister Sergey Lavrov tomorrow.
Moscow, which does not recognise the interim government in Kiev, has so far ignored the threat of American and European sanctions designed to force it to pull back from Crimea.
The Duma has endorsed a decision by Crimea's parliament to become a part of Russia subject to approval of a March 16 referendum - a vote dismissed as illegal by Western nations.
Mr Cameron's call came as William Hague said the occupation of Crimea would prove a "big miscalculation" by Moscow in the long-term.
The Foreign Secretary, who is discussing the latest situation with US Secretary of State John Kerry, conceded that the West was powerless to force Russian forces to withdraw.
But he said there would be "very significant" consequences for Russia's future global influence if it refused to enter talks with Kiev over the stand-off.
Number 10 said the PM urged Mr Putin "to de-escalate the situation and to support the formation of a contact group that could lead to direct talks between the governments of Russia and Ukraine.
"The PM made clear that we, along with our European and American partners, want to work with Russia to find a diplomatic solution to the situation in Ukraine, including Crimea."
The spokeswoman went on: "President Putin agreed that it is in all our interests to have a stable Ukraine.
"He said that Russia did want to find a diplomatic solution to the crisis and that he would discuss the proposals on the contact group with Foreign Minister Lavrov tomorrow."
Amid reports of pro-Ukrainian groups being attacked by pro-Russian groups at a rally in the Crimean port of Sevastopol, Ukraine's interim prime minister said his country "won't budge a single centimetre from Ukrainian land".
"Let Russia and its president know this," Arseniy Yatsenyuk told a crowd in Kiev marking the 200th anniversary of the birth of poet and nationalist Taras Shevchenko.
Mr Hague warned of "the great danger of a real shooting conflict" if Moscow sought to extend its control beyond the majority-Russian Black Sea peninsula, which was part of Russia until 1954.
He commended the "restraint" shown so far by the Ukrainians in the face of provocation.
The Foreign Secretary rejected Vladimir Putin's claims that the insignia-less troops in de fact control of Crimea were local fighters not Russian personnel - saying "all the evidence" said they were.
A team of international observers from the Organisation for Security and Co-operation in Europe (OSCE) has consistently been refused entry.
Russia "clearly had a well-rehearsed plan to move militarily" which it was forced to hurriedly implement on the ousting of pro-Russian Ukrainian president Victor Yanokovich, Mr Hague said.
But despite criticism of the failure of the EU to impose sufficiently stringent sanctions on Moscow, Mr Hague insisted there was no "tacit acceptance" of the takeover in the Crimea.
"It would be wrong to conclude that Russia has won in some sense. I think this will turn out over time to be quite a big miscalculation," he told BBC1's Andrew Marr Show.
"The long-term consequences will be very significant for Russia.
"The long-term effect will be to unite Ukraine more against Russian domination of their affairs and to recast European policies in a way that will reduce Russian leverage over Europe."
He went on: "None of the measures we can propose remove Russian forces from the Crimea. Nobody is proposing a military conflict between the West and Russia.
"But some of the diplomatic and other costs to Russia of this are serious and need to be taken seriously in Moscow."
The European Union has suspended talks with Moscow on visa liberalisation and threatened asset bans and travel freezes on Russian officials if there is no rapid progress to a diplomatic solution.
Washington, less constrained by fears of the economic consequences on its own economy, has taken a harder line - moving to punish Russian figures suspected of involvement.
Mr Hague said that there was "clearly an increased case for American gas exports to Europe" and other measures to reduce reliance on Russian energy supplies.
Shadow foreign secretary Douglas Alexander said Europe needed to be "more explicit about the real costs and consequences for Russia if it fails to de-escalate this crisis".
He said the EU's failure to translate condemnation into concrete action risked emboldening the Kremlin and increasing the risk of escalations elsewhere in the world.
A "clear deadline for progress" should be set after which threatened asset freezes on Russian officials suspected of involvement were implemented, he wrote in the Independent on Sunday.
And he said the G7 countries "should seek agreement to suspend Russia from the group until it changes course" if there was no rapid progress.
Energy Secretary Ed Davey said an escalation of the situation into a prolonged military conflict could lead to higher energy bills in the UK.
"The companies who supply gas and electricity tend to buy their gas forwardly, so they buy 18 months in advance. So they shouldn't be using it as an excuse to put up people's prices," he told Marr.
"When this crisis broke, there was a spike in oil and gas prices. They've now come down, I'm pleased to say.
"But of course if there was an escalation, if we saw military conflict, if that conflict went on for months and months and months, there could be an impact on prices."
Investment in renewables meant the EU's dependency on Russian gas imports "has been falling quite markedly in recent years" and a proposed trade deal with the US would further help, he said.