Bayern Munich manager Pep Guardiola insists Arsenal remain a "dangerous" outfit despite their two-goal deficit in the Champions League round-of-16 tie.
The Germans warmed up for the second leg at the Allianz Arena, in which they hold a 2-0 advantage, with a 6-1 triumph at Wolfsburg to move 20 points clear at the top of the Bundesliga standings.
Arsenal, meanwhile, will be looking to take confidence from Saturday's 4-1 FA Cup quarter-final win over Everton, and Guardiola is all too aware of the threat the Gunners can pose when firing on all cylinders.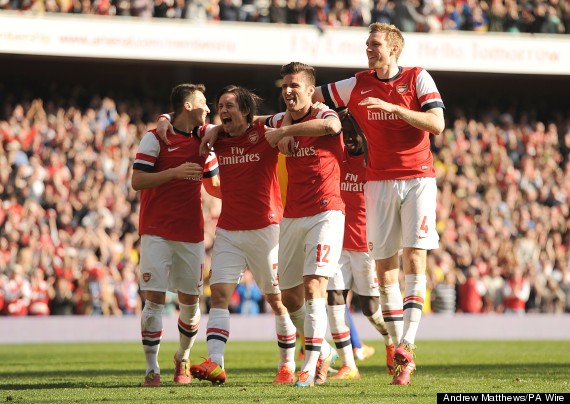 Arsenal beat Everton 4-1 in the FA Cup quarter-finals
"The quality is there," said the former Barcelona coach, acknowledging the impressive 2-0 win for Arsène Wenger's men in Bavaria last season, which saw them go out on away goals only.
"When I analyse Arsenal and the first game (last month), we saw the quality of (Santi) Cazorla, we saw what happened until the (early) penalty (Mesut) Özil missed, what happened in the first nine minutes they were the nine minutes in this season when the opponent was better against us. They remain a good club, a good team."
Guardiola added: "They can create two or three really great chances in two or three minutes. If you play in a really good team like Arsenal and are 2-0 down, anything is possible.
"People think '2-0 you don't have a chance in Munich', but that's the main problem for us.
"They have (Per) Mertesacker, (Tomas) Rosický, (Kieran) Gibbs, (Mikel) Arteta - a lot of very good players.
"I do not want to see Özil control the game. That will be a big problem for us.
"This is not an easy game. We have to attack, give our best, be aggressive without the ball."