Lindsay Lohan made an appearance on 'The Tonight Show' last week, and ended up with water thrown in her face by host Jimmy Fallon.
The two played an on-air game of 'Water Wars', where the person who drew the higher number from a deck of cards got to throw a glass of ice cold water in the other's face.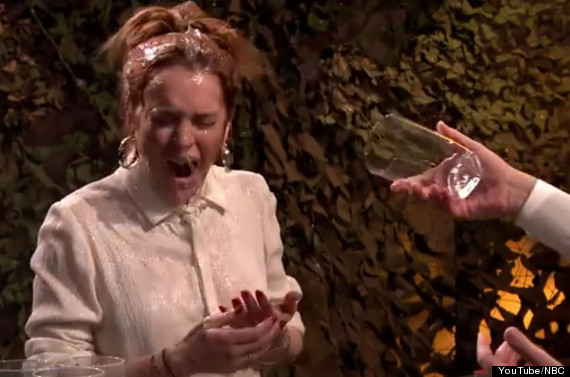 Lindsay Lohan
Before the game kicked off, while she was still comfortable and dry, Lindsay joked: "This is war," before confessing, "my heart is beating so fast."
The star did manage to get her own back in the end, returning the favour and throwing water in the face of Jimmy Fallon and eventually dousing him with a water cannon.
During her appearance on the show, she also teased a future 'Mean Girls' reunion, saying that Tina Fey - who wrote the cult teen film - was talking to producer Lorne Michaels about "some sort of reunion".
A sequel to the film, 'Mean Girls 2' was released in 2011, though the majority of the original film's cast didn't star in it.
The 27-year-old was appearing on 'The Tonight Show' to promote her new reality series 'Lindsay', which made its US TV debut on Oprah's OWN network last night.
LIKE US ON FACEBOOK | FOLLOW US ON TWITTER