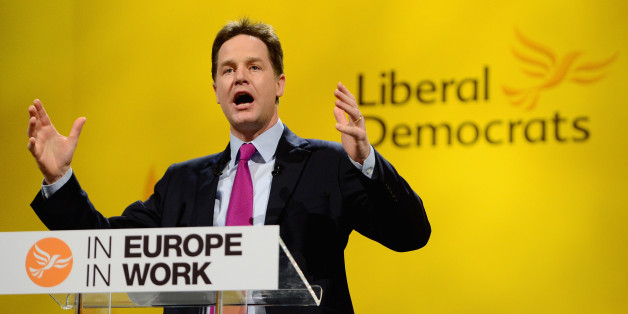 Jeff J Mitchell via Getty Images
Here are the five things you need to know on Monday 10 March 2014...
1) YOU AIN'T GETTING RID OF ME
Most of the papers are less concerned with the contents of Lib Dem leader Nick Clegg's speech to his party's spring conference in York, and more concerned with his future. He can't really blame them. From the Daily Mail:
"The Deputy Prime Minister insisted he planned to lead the party until 2020 - but only after his team had put forward three different possibilities as to when he will quit... Mr Clegg's aides first indicated that he would fight the next election and remain leader 'beyond' 2015 - giving no further guarantees. But sources close to Mr Clegg then suggested he would quit as leader if the Lib Dems were not part of a coalition government in 2015... Three hours later, after frantic talks behind the scenes, Mr Clegg's office adopted yet another position. They tried to quell the leadership speculation, insisting: 'Nick Clegg intends to be the leader of the Liberal Democrats today, tomorrow and into the 2015 election and through the whole of the next parliament. He intends to be leader of the Liberal Democrats whether or not are in government.'"
So who's lining up to replace the Cleggster if 2015 is, as predicted, an electoral disaster for the Lib Dems? The Guardian reports: "Tim Farron, the Lib Dem president who is waging an energetic Twitter campaign to reach out to the party grassroots, was a highly visible presence throughout the weekend and is expected try to win from the left in the next leadership contest."
The Sun adds: "Rumours of a possible exit overshadowed [Clegg's] spring conference speech in York, and forced Treasury Chief Secretary Danny Alexander to dismiss claims he was 'on manoeuvres' for the job." He must be because, as the Mail notes, Alexander has had "a makeover, ditching his glasses and hiring a media adviser".
SHAMELESS SELF-PLUG ALERT: Watch my 'Head To Head' interview with Shlomo Ben Ami, the former Israeli foreign minister, on the paradox of 'liberal Zionism' and the future of the Jewish state.
2) JOBS FOR THE BOYS (AND GIRLS)
From the Guardian:
"Labour will today vow to tackle the scourge of youth unemployment by extending its jobs guarantee to all five years of the next Parliament... Every person aged 16-24 who is out of work for more than a year will be promised a paid starter job which they will have to take or lose benefits, Ed Miliband and Ed Balls will announce. Labour had said it would bring in the compulsory jobs guarantee for a year. But Shadow Chancellor Mr Balls will today make a manifesto commitment to run the scheme till 2020 if the party is voted into power next year. Funding will come from a repeat of the tax on bank bonuses, raising an estimated £1.5-£2billion, and also by restricting pension tax relief for people paid more than £150,000, which will bring in up to £1.3billion."
The right-wing papers aren't happy: "Labour plots another raid on pensions," says the Mail headline. The Telegraph and Times also refer to the move as a "raid" on pensions.
3) 'CHARGE OF THE LIGHTWEIGHT BRIGADE'
The best headline of the day is in - where else? - the Sun. The paper reports:
"Vladimir Putin risks war if he takes another step into the Ukraine, Foreign Secretary William Hague has warned. He said there was a 'real danger of a shooting conflict' if Russian forces moved beyond Crimea to invade Eastern Ukraine. But he admitted that NONE of the sanctions drawn up so far by EU leaders would force Russian troops out of Crimea. It has also been revealed that PM David Cameron phoned the Russian leader to 'urge him to de-escalate the situation in Ukraine'... European leaders have drawn up a list of sanctions — including travel bans and the freezing of Russian assets — that will come into force if Moscow refuses to listen. But Mr Hague admitted: 'None of these things force a Russian withdrawal from Crimea. That is well understood. But they will raise the cost to Russia over time.' Dithering EU bosses' actions are in stark contrast to the bravery shown in the famous Charge of the Light Brigade in 1854. Meanwhile Energy Secretary Ed Davey warned that if the crisis deepened, Britain could see its gas prices soar."
BECAUSE YOU'VE READ THIS FAR...
Watch this video of a cat jumping straight into an aquariam wall in pursuit of a mouse...
4) ZERO-HOURS BRITAIN
The BBC reports that the "size of the overall UK economy will this summer overtake the peak level it was at before the 2008 financial crisis", according to the British Chambers of Commerce (BCC).
But what kind of economy, what kind of growth, will it be? Chuka Umunna, the shadow business secretary, has been asking the Office of National Statistics (ONS) to look into zero-hours contracts, which allow employers to hire staff without any obligation to guarantee a minimum number of working hours, and the results aren't pretty - from the Guardian's splash:
"The scale of the use of zero-hours contracts has been revealed after a revision of official figures showed that nearly 583,000 employees – more than double the government's estimate – were forced to sign up to the controversial conditions last year. A 'rising tide of insecurity' in the job market since the last election was allowing employers to turn a "once marginal and niche element of the labour market" into the norm, Labour claimed on Sunday evening."
The paper adds that the ONS "might still be underestimating the figure. Britain's largest trade union, Unite, has cited research by the Chartered Institute of Personnel and Development (CIPD) which has said that 1 million workers are on the contracts."
5) THE CAMERONS DO 'NORMAL'
First Michael Gove became the first Tory education secretary to send his kids to state school; now David Cameron confirms his status as the first Conservative prime minister ever to send his kids to state school while in Downing Street - from the Daily Mail front page:
"David Cameron has decided to send his daughter Nancy to a state secondary school as his wife is 'very keen' to give her children a 'normal' education, friends of the couple have claimed. Nancy Cameron is now ten years old and her parents will have to submit their choice of schools in November. Samantha Cameron is said to want her daughter to meet people outside their usual circle, claiming she wants her children to be judged 'for who they are' rather than being defined by their rarefied social status or their father's job. One friend told the Mail: 'She's very keen on a normal education for her children. Her children's lives are abnormal enough. They have a strange existence as it is.'"
Hmm. Does this mean 'SamCam' believes she and her husband - educated at Marlborough College and Eton College, respectively - didn't have a "normal" education? And remember Dave's hilarious line before the 2010 election: "The papers keep writing that [my wife, Samantha] comes from a very blue-blooded background", but "she is actually very unconventional. She went to a day school."
PUBLIC OPINION WATCH
From yesterday's Sunday Times/YouGov poll:
Labour 39
Conservatives 32
Ukip 14
Lib Dems 10
That would give Labour a majority of 86.
900 WORDS OR MORE
Boris Johnson, writing in the Telegraph, says: "Is Vladimir Putin the new Stalin? Not now the USSR has fallen apart."
John McTernan, writing in the Times, says: "Lib Dem ministers want the red box but not the blame."
Owen Jones, writing in the Guardian, says: "The Met's problem isn't bad apples, it's the whole barrel. Abolish it."
Got something you want to share? Please send any stories/tips/quotes/pix/plugs/gossip to Mehdi Hasan (mehdi.hasan@huffingtonpost.com) or Ned Simons (ned.simons@huffingtonpost.com). You can also follow us on Twitter: @mehdirhasan, @nedsimons and @huffpostukpol