Kim Jong Un has been unanimously re-elected to North Korea's parliament – via a ballot that featured his name only.
The North Korean leader was standing for the Mount Paekdu district for the first elections of the Supreme People's Assembly legislature under his rule.
100 per cent turnout was recorded, without a single dissenting ballot.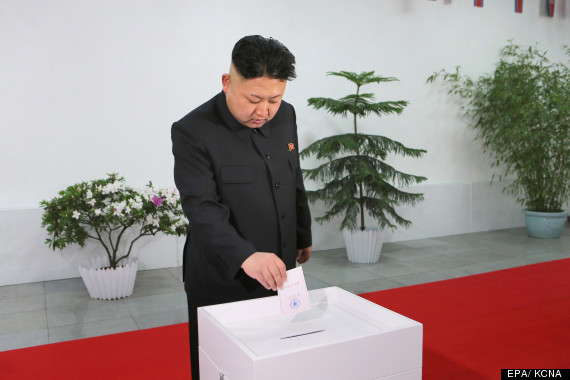 North Korean leader Kim Jong Un casting a ballot at a polling station on 9 March
"This is an expression of all the service personnel and people's absolute support and profound trust in supreme leader Kim Jong-un as they single-mindedly remain loyal to him," the Associated Press reports via the state-run Korean Central News Agency.
However, Al Jazeera's Stefanie Dekker told the channel: "If you vote no, you need to – very publicly – enter a separate booth, and that is something very few here are willing to risk."
SEE ALSO:
The Independent explains: "Rather than being a democratic choice between candidates, elections in North Korea superficially provide the people with the chance to approve the politicians pre-selected by the leading party. Each ballot has a single named listed with the option to pick 'yes' or 'no'."
The Supreme People's Assembly meets rarely – often once annually and has little power. The Associated Press describes the vote as "more a political ritual than an election by Western standards" and is generally held once every five years.
The BBC writes Kim's younger sister Kim Yo-jong also chose the occasion to make her first official appearance in state media, suggesting she is a rising force in the hierarchy.
The 26-year-old was identified as a "comrade" by state television and described as a senior official.