Oscar Pistorius vomited into the dock during a pathologist's graphic testimony about the injuries inflicted on his girlfriend Reeva Steenkamp, after he shot her dead.
The details cannot be broadcast or reported by court order, with pathologist Gert Saayman arguing that it could compromise the "dignity of the deceased".
Pistorius repeatedly retched in the Pretoria court as Saayman described the gruesome injuries. Pistorius denies intentionally killing Steenkamp, a model and reality TV star, and says he believed she was an intruder when he shot her on Valentine's Day 2013.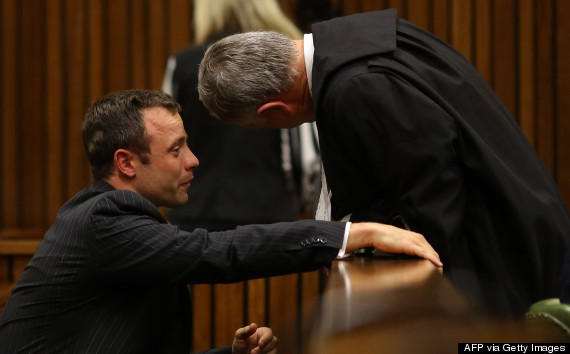 Pistorius cries as he chats to his lawyer,Barry Roux during a hearing on the sixth day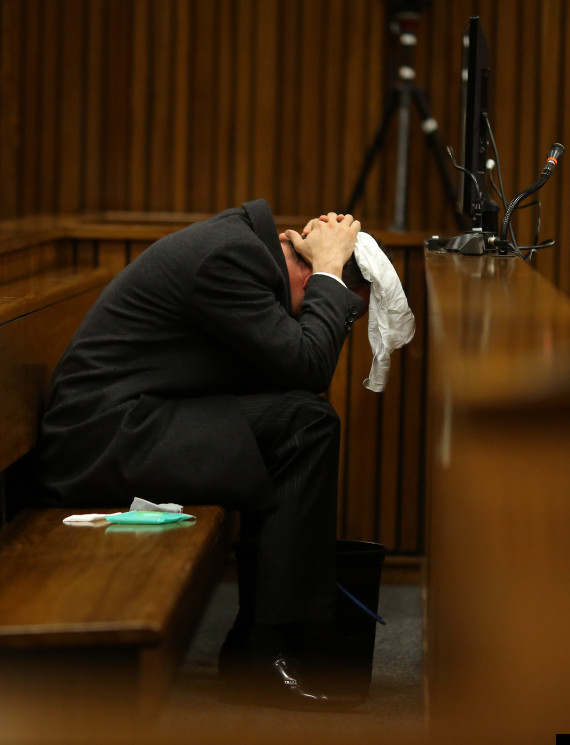 A bucket was placed by Pistorius but he continued to cry and vomit, holding rosary beads and covering his ears
Even after a short adjournment, Pistorius could not stop the retching, with is lawyer Barry Roux admitting nothing could be done to stop the Paralympian vomiting, but said he wanted to continue to hear proceedings.
"My Lady, he's not fine but he's not going to be fine," he replied. "He's having some difficulty. He's very emotional but it's not going to change."
The pathologist's report included how splinters from the bathroom door, through which Pistorius shot his girlfriend, and caused damage to Steenkamp's body, as well as the bullets. Those bullets were a special brand, designed to cause maximum damage by opening on impact, the pathologist said.
Earlier, Saayman had argued that the descriptions of the injuries were of a "very personal nature" and may "harm the rights" of friends and family of the deceased.
Journalists were banned from tweeting any details, but described Pistorius' distress at the evidence.
#Pistorius - judge bans tweeting on pathologist evidence or live broadcast. But journos can tweet that OP is reportedly vomiting.

— alex thomson (@alextomo) March 10, 2014
As we return to gunshot wounds and their survivability, Pistorius begins to vomit again. V distressing irrespective of where you sit.

— Aislinn Laing (@Simmoa) March 10, 2014
I am in the overflow court at the moment, but am told the main courtroom now smells of Pistorius's vomit. #pistoriustrial

— Tom Peck (@tompeck) March 10, 2014