Defending champions Oxford unveiled a lighter crew but one with plenty of experience at the weigh-in for the 160th Boat Race with Cambridge.
Three Olympians, including London 2012 bronze medallist Constantine Louloudis, filled the Dark Blue boat, which weighed in at an average of 89.7-kilograms and a 717.8kg total for the April 6 event.
Not to be intimidated by conceding more than 2kg a man to their Light Blue opponents, Karl Hudspith, Oxford's third man and in his fourth successive Boat Race, sized up Ivo Dawkins by facing his opposite number as he stepped on to the scales.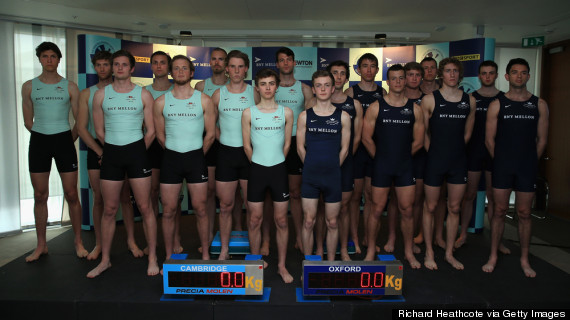 The Men's crews line up during the Boat Race Weigh-In
"Everyone motivates themselves in different ways and Karl can be quite confrontational," London's Louloudis said.
The 20-year-old Dawkins was said to be unfazed.
Cambridge president Steve Dudek said: "Ivo is about as cool a customer as I could ever hope to row with."
Cambridge coach Steve Trapmore added: "It's all very well sizing people up, you've got to be able to back it up.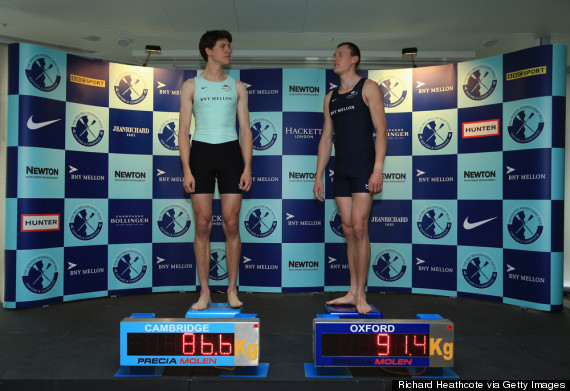 Ivo Dawkins of Cambridge lines up against Karl Hudspith of Oxford
Cambridge are optimistic of responding from their 2013 loss and Dudek was referring to Dawkins and Helge Gruetjen when he added "there's a lot of freakish natural talent either side of me".
Trapmore is pleased with the composition of his crew as Cambridge bid to win after last tasting success in the controversial 2012 edition, which featured a restart following swimming protestor Trenton Oldfield's intervention.
"The team's come together really well," Trapmore added.
"There's nowhere near the depth of experience that Oxford have, but I'm always confident."
Louloudis is bidding for a hat-trick of wins with Oxford.
The 22-year-old stroke won the event in 2011 and 2013, taking a break in 2012 to focus on the Olympics.
"I'd love to get a third win, that'd be awesome," he added.
"We've got lots of guys in the boat who have done the job before but we can't rest on our laurels. Last year's race was really tough.
"You've got to shift your weight and I'm pretty confident we've got enough power in the boat to do the job."